SOME HISTORY
Texa-Tonka Shopping Center, 8000 Minnetonka Blvd. between Virginia and Texas Avenues, was built by St. Louis Park resident Adolph "Bob" Fine.  Building cost was estimated at $78,000.  Fine's son Jeffrey remembers that it did not start out to be a shopping center at all, but just a few stores.  In fact, there is a picture from about 1951 of a sign on a much smaller piece of property at Minnetonka and Dakota that appears to announce that it will be the site of Texa-Tonka. That site has never been built on.
Two articles announced the advent of the new center:  the August 1, 1951 issue of a short-lived Park newspaper called The Spirit, and the August 8, 1951 issue of The Dispatch.  Both reported that a significant feature of the center was that it was the first major suburban shopping center to be constructed, owned, operated and staffed entirely by local people.  Penny's Supermarket was owned by George Levine, who lived at 3282 Kentucky Ave.  Mike Zoss lived at 2844 Georgia Ave.
The center was to be built in three 220-foot sections.  The first section, comprised of Penny's and Mike Zoss Drug Store, opened on November 29, 1951, two months later than projected.  Don Johnson's Suburban Dry Cleaning was located between the two stores, and most likely opened in early 1952.
In the Spirit article, Fine said, "We contemplate a center that will not merely service the needs of the most rapidly mushrooming neighborhood of St. Louis Park, but Minnetonka township, East Hopkins, Bellgrove and Golden Valley.  We fully anticipate drawing trade from the city as well.  Our prime attractions are modern stores suited to the convenience of the customer who can come as he or she is, plus ample parking space.  We will have parking for 500 cars.  That means easier, faster, expense-free shopping."
The first advertising tag line was "Park Safely, Shop Wisely."  Holiday ads for 1955 featured the slogan "The Shopping Center for Thrifty Buyers."
The shopping center sponsored a street dance on July 12, 1956, to celebrate the opening of Minnetonka Blvd. – possibly after a repaving project.  Music was provided by Jerry Mayeron's 6 Piece Orchestra.  That year the slogan was "For Thrifty Shoppers."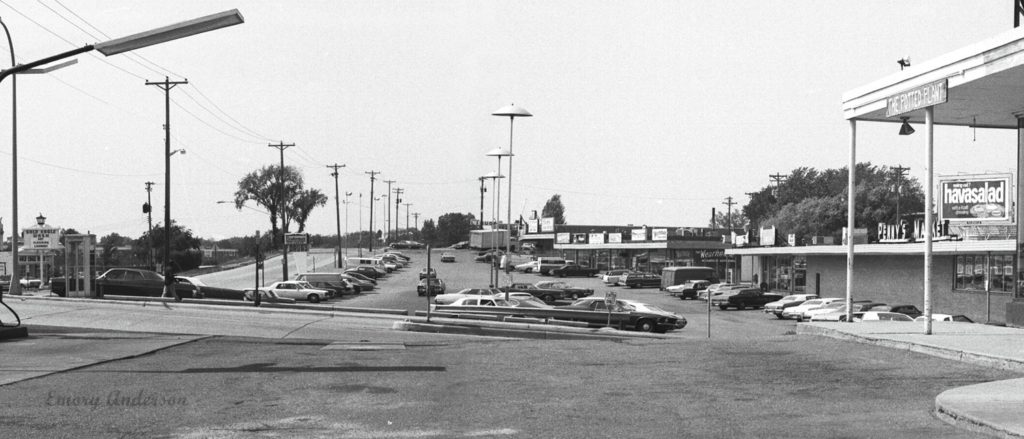 See the bottom of this page for more panoramic photos of the shopping center.
---
In 1959 Adolph Fine proposed to more than double Texa-Tonka with a 23-building, $5 million expansion.  At the time there were seven buildings with 100,000 square feet.  The proposed expansion would include three commercial stores, 12 office buildings, seven apartments and "a rest home."  Parking lots would be strategically dispersed throughout the center with room for over 700 cars.  "The center will be of a garden type with emphasis on landscaping."  (Dispatch, October 8, 1959)
What eventually happened is that the land was platted into Texa Tonka Terrace 1st (September 21, 1960) and 2nd (October 5, 1951) Additions, and the entire acreage was built up with over 20 apartment buildings.
Texa-Tonka in 2021
In 2018 Paster Properties purchased Texa-Tonka with an eye toward "bringing back a hidden gem."
Discovering its amazing mid-century architecture, they embarked on a renovation/resteoration in 2019-2020.
A few new businesses, Revival and Angel Food Bakery among others, will be added to Texa-Tonka, joining some longtime tenants.
---
THE STORES
The following is an alphabetical list of some of the stores that have operated at Texa-Tonka.  It is by no means complete, so if you know of any others, please contact us.  Also, the dates shown are dates we know the stores were there, but they may have been there before and/or after the date shown as well.  All addresses are on Minnetonka Blvd. unless otherwise listed.  Our thanks to Mark Toretsky for his tireless search through microfilm to find evidence of store dates and grand openings!  And, of course, many thanks to Emory Anderson, not only for providing his photos to this page but doing the actual posting.
---
Abc Kitchen Center:  12/1981  (3004 Texas)
---
American Bike and Sports:  April 1977 to December 1981
---
American Pie:  December 28, 2012 to February 2013
---
Anderson Furniture:  1961 – 1968.  An ad from July 11, 1968 says the store is moving to Mound.  Richard Anderson's daughter says that it was not a successful move.
---
Art Direct:  1997/98 to ?
---
AxMan Surplus:  1995/96 – present.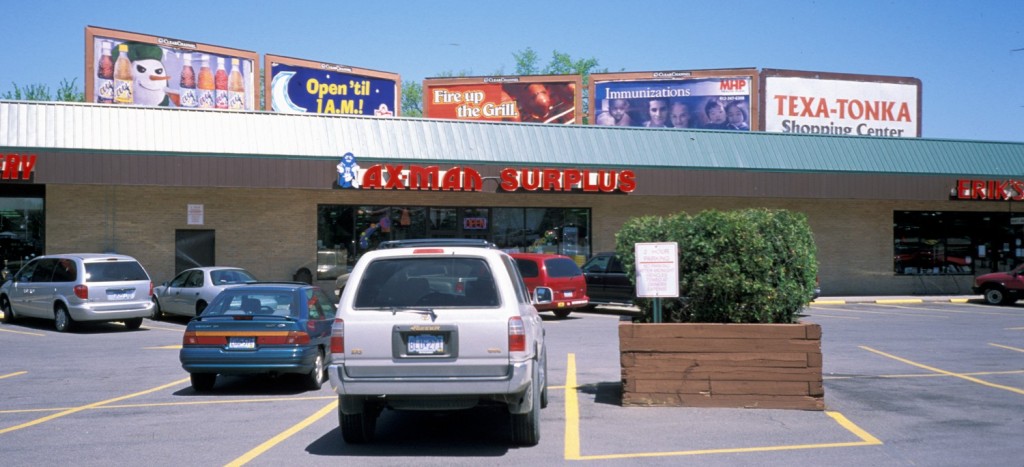 ---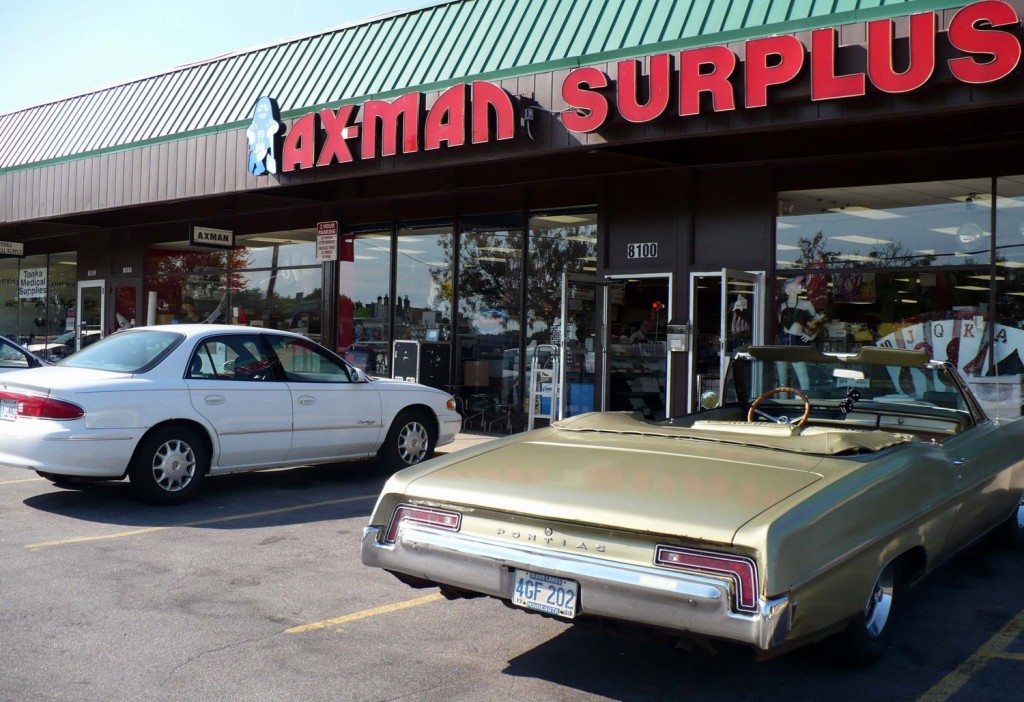 2008 Photo by Emory Anderson
---
The Bagel:  April 1964 to 1965/66  "A Twin City First!"  Run by Mal Marks, age 22, a "refugee from the Lincoln Del," said someone.  An ad from July 1964 featured "Kay's Special Chocolate Chip Applesauce Cake," Thurs., Fri., Sat., only.
---
Bagelville, "a New York Bagelry":  December 1970 to November 1972
---
Baskin Robbins 31 Flavors:  1963 to 1991/92.  In February 1964, Beatle Nut Ice Cream was one of the 31 flavors:  "pistachio ribboned with rock 'n' roll fudge, and crammed with the best walnuts this side of Liverpool.  When the boys with bangs taste it, they'll 'Wanna Hold Your Hand.'"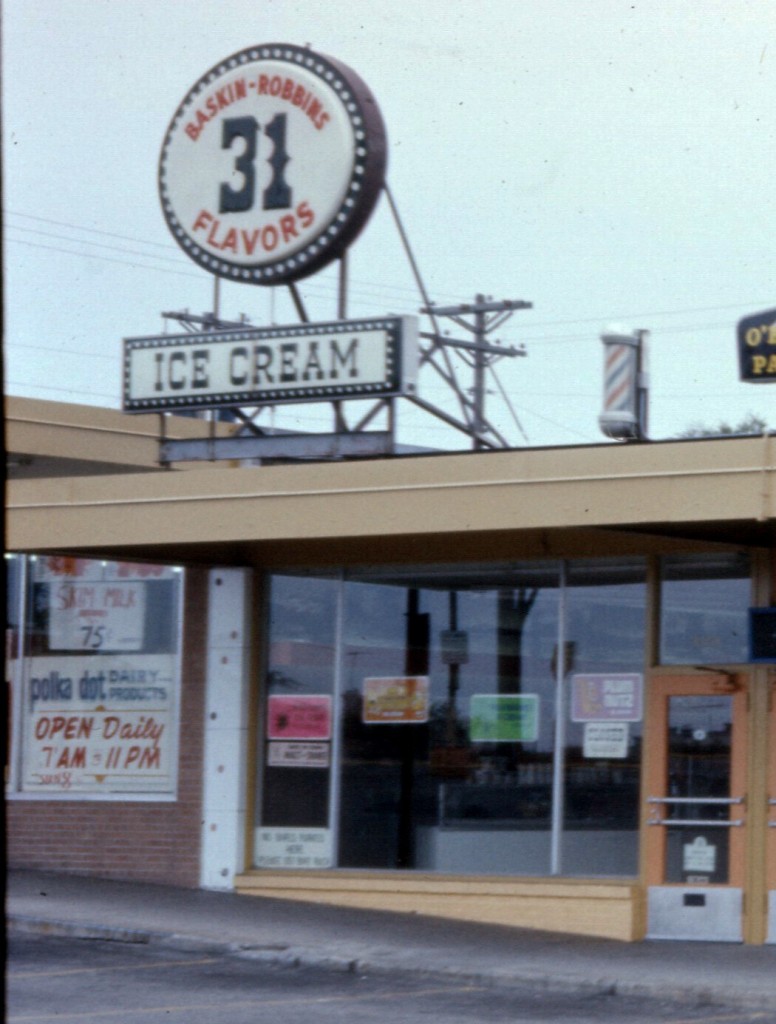 ---
Ben Franklin 5 – 10 Store:  1958 to 1960/61.  Owned by Fred J. Miller and Luverne J. Bohning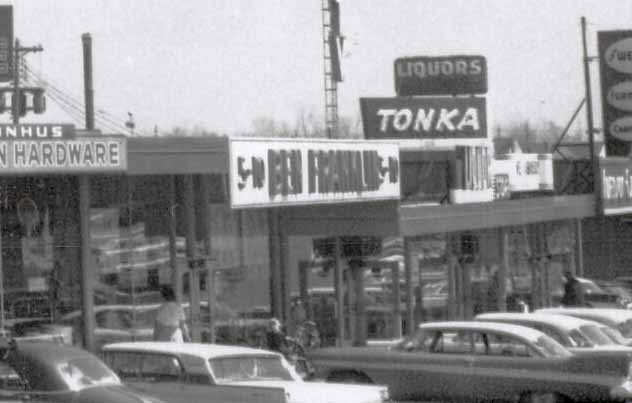 ---
Best of India Restaurant:  2005/2006 to present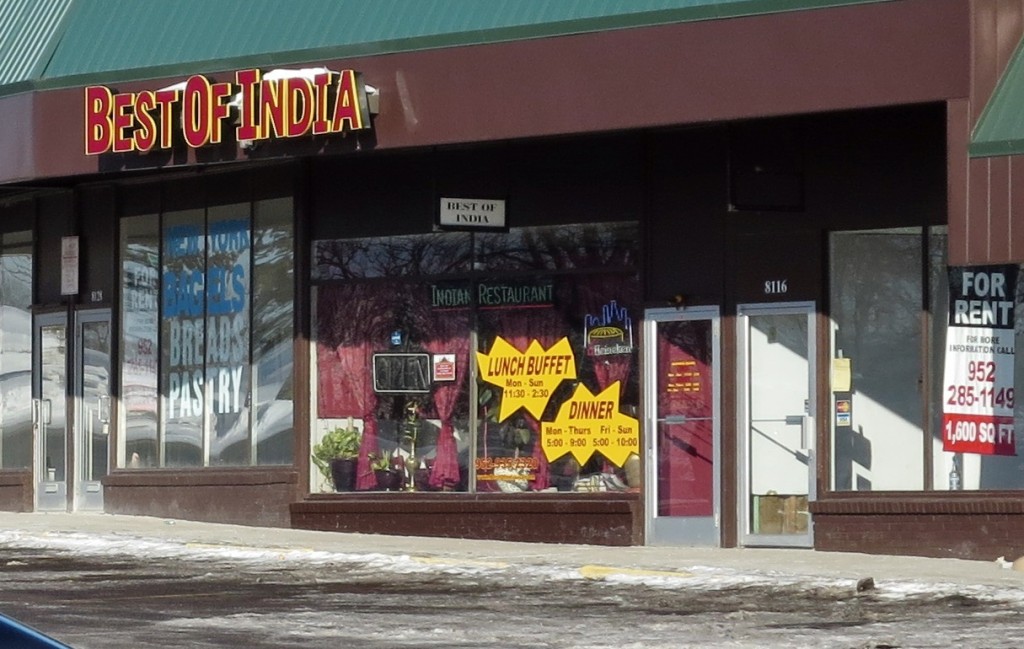 ---
Bicycle Works:  1983 to 1986
---
Big B's Pizza:   Grand Opening July 19-21, 1968.  Featured local music; on December 6, 1968, the New Image appeared, featuring Park student Barb Freidman on guitar.  Closed September 1970.  There was a Big B's at County Road 18 (now Highway 169) at Medicine Lake Road in 1982.';
---
Big City Bagels and Deli:  1999
---
Bizarre Bazaar Coffee and Gift Shop:  2007 to 2010
---
B.J.'s Bike & Ski Shop:  January 1982 to 1983
---
Bonhus Our Own Hardware:  1953 to 1970/71.  Owned by John S. Bonhus.  In 1948-56 there was another store at 3045 Hennepin Ave.  Our Own Hardware was a Minneapolis-based hardware wholesaler that sold merchandise to member retailers in Minnesota, Wisconsin, Iowa, North Dakota, South Dakota, and Montana.  It operated from 1913 to 1988.  Bonhus had a Grand Reopening Sale on November 10, 1965.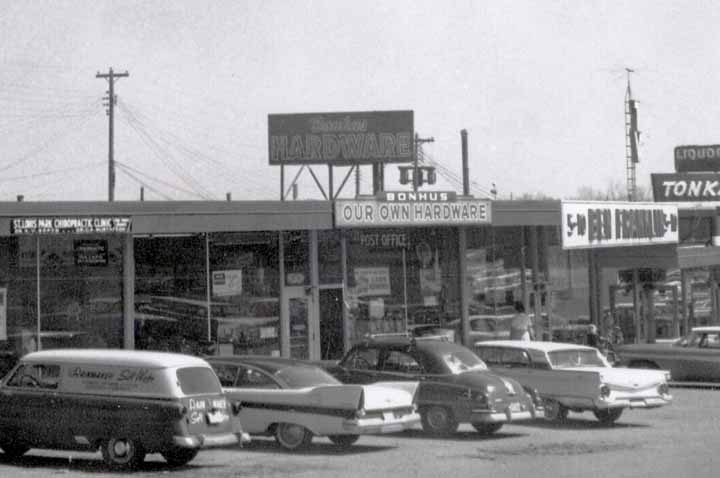 ---
Budget Beauty Barber Supply:  1972/73 to 1975/76
---
California Tan:  April 1980 to 1981
---
Caribbean Tan & Beachwear: 1998/99 to 2009/2010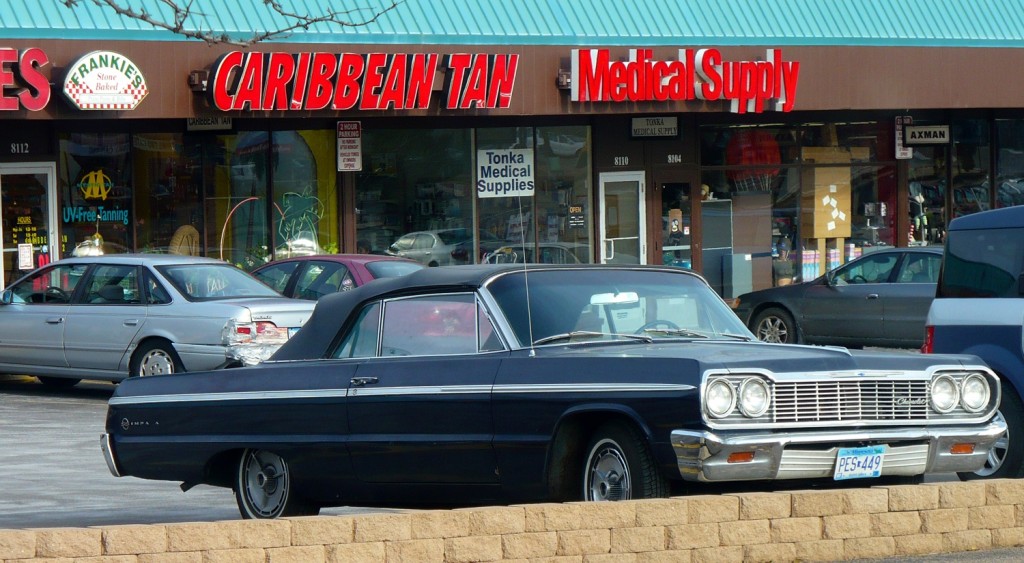 ---
Carousel Children's Shop:  1965 to 1966/67
---
Cha Rose Salon of Beauty:  1954/55 to 1957.  Featuring Mr. Charles.
---
Chef Cafe II:  1982 to 1984
---
Cibo Pizza:  Grand Opening June 5-7, 1964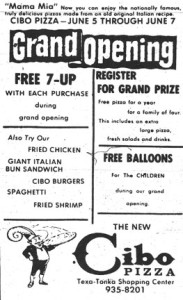 ---
Classy Lady:  November 5, 1981  to 1982
---
Coffee Shop:   2007
---
Cooks Paints:  June 14, 1957 to 1959.  Owned by Frank Zemlin.
---
Cooney's Super Valu:  Extant in September 1990.    Owned by Vic Cooney
---
Cop Shop:  1997/98 to present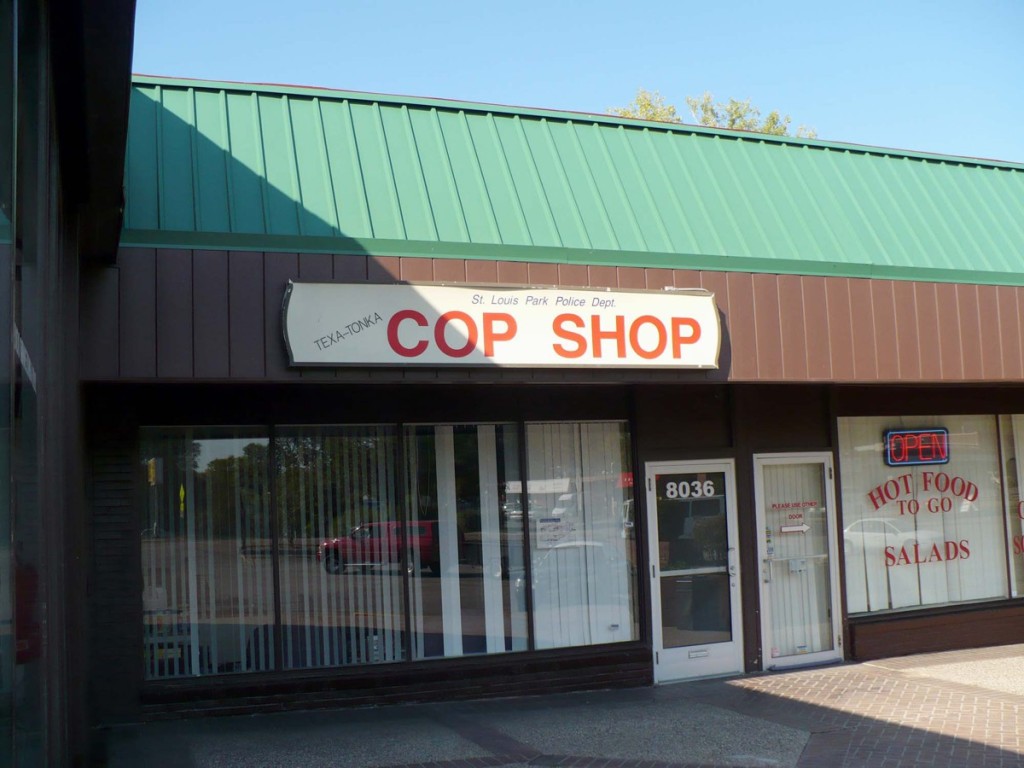 ---
Dahl Finance 1976
---
Daisy Chain Sample Shop:  August 1972 – January 1976.  Women's and children's clothing.
---
Dale's Quality/Ladies' Apparel:  "Now open" March 5, 1953.  Possibly 1952-53
---
Dancin' Aerobic & Jazz:  1983
---
Dave's Shoe Repair 1968 to 1987/88.  Owned not by Dave, but by John Lewis.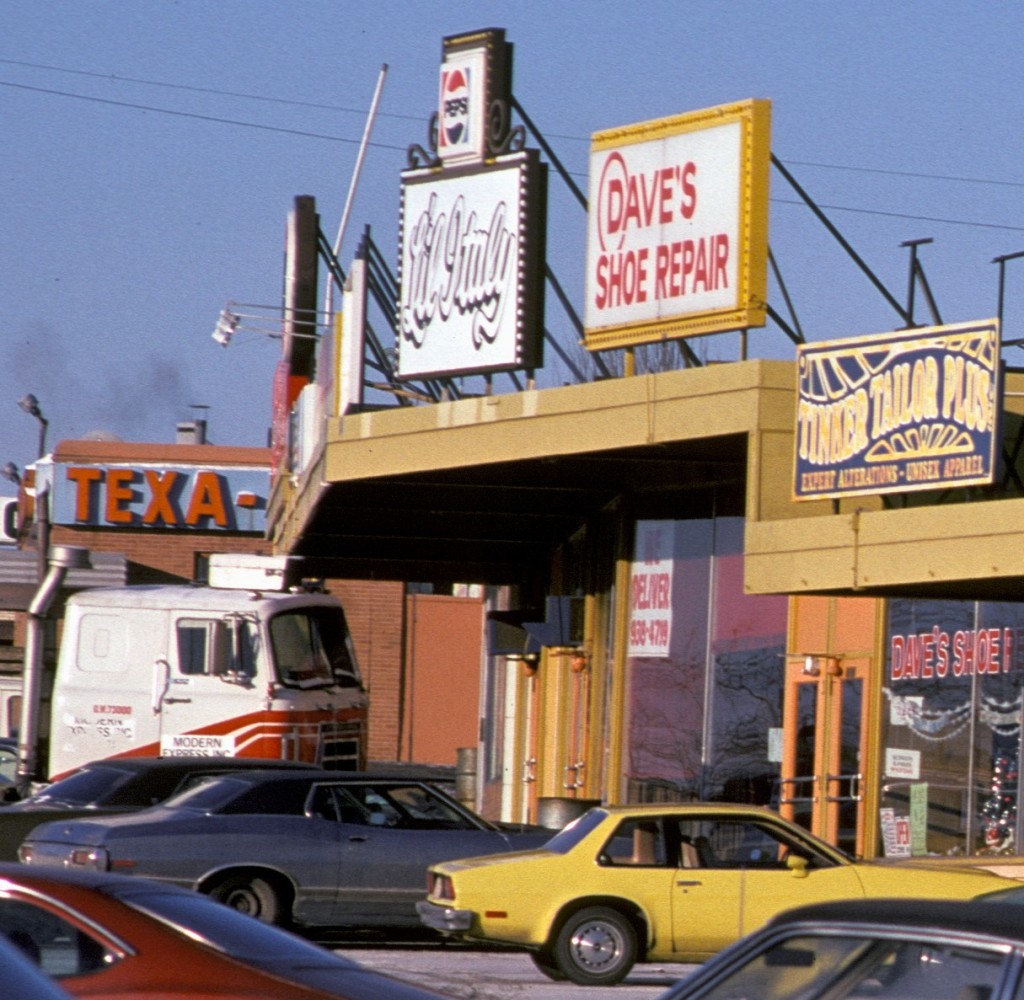 ---
DFL Party Campaign Office:  1996/97
---
Dial Industrial Finance Co.:  1971/72 to 1979
---
Dick's Pizza "the master maker":  Grand opening November 9-15, 1964.  Closed 1965/66
---
Don's Beauty Wares:  1992/93 to ?
---
Duffy's Barber Shop:  1987/88 to 1991/92
---
Elijah's Cup:  1986/87 to 1992/93
---
Erik's Bike Shop:  1996/97 – present.   Erik's was previously at 6315 Minnetonka Blvd. (now the Pizza Hut) in the late '70s.  It started in a smaller space at Texa-Tonka and expanded to its present space.

---
Euro Gourmet Cafe and Deli:  1995/96 to present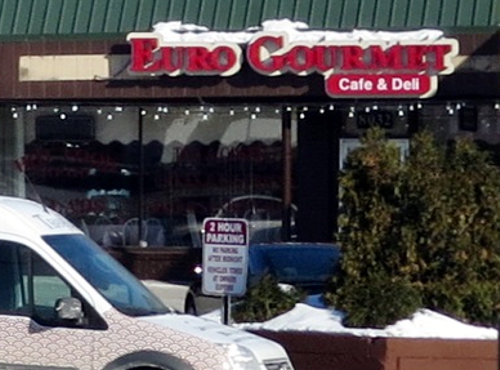 ---
Evenson Paint & Wallpaper Co.:  Vernon E. Evenson. This history is a bit confusing, with different names and locations.
Grand opening September 25-26, 1953 at 7920 Minnetonka.  There until at least 1963.  Possibly a previous building across Texas; current building there was built in 1962.
Evenson-Thielen Paint and Wallpaper, 1963 to 1971/72
Thielen Paint and Wallpaper:  1971/72 to 1993/94
---
Excel Pawn and Jewelry:  1997/98 – present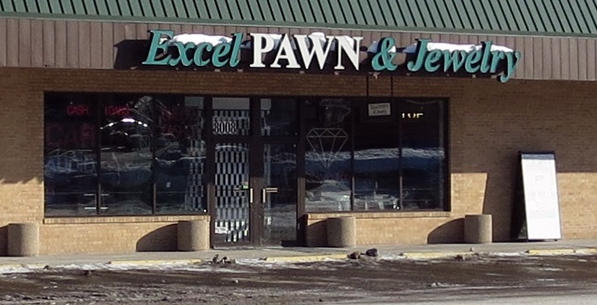 ---
Film Port:  December 1981 to 1982
---
Finale Consignment Shop:  December 10, 1981 to 1983
---
Florian Beauty School (3006 Texas):  1981
---
Flower Fair:  1962 to 1965.  Floral arrangements, glassware, wall plaques, brassware, candles.
---
Frankie's Pizza:  1997/98 to November 2012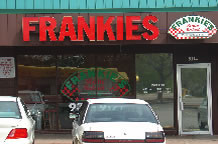 ---
Freer's Home Bakery: 1953 to April 1958
---
Friedman's Department Store:  1953 to  January 26, 1957.  The original Friedman's is located at 400 W. Broadway in a building the county says was built in 1901 but the family says was built in 1889.  That store is still in business, and the family says that the the business started in the late 1890s.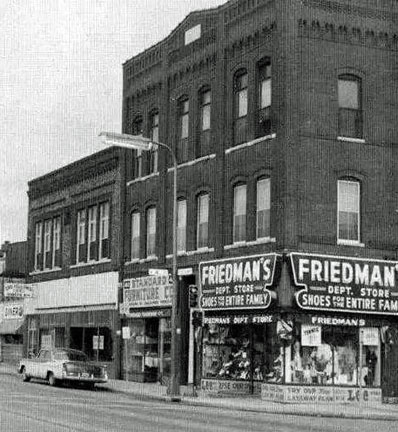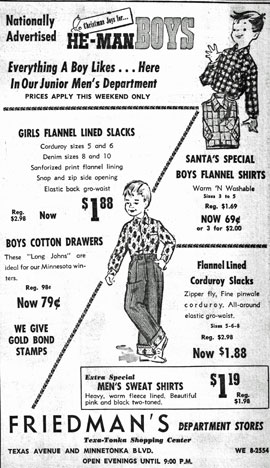 ---
Gael's Pizza:  March 2013 to present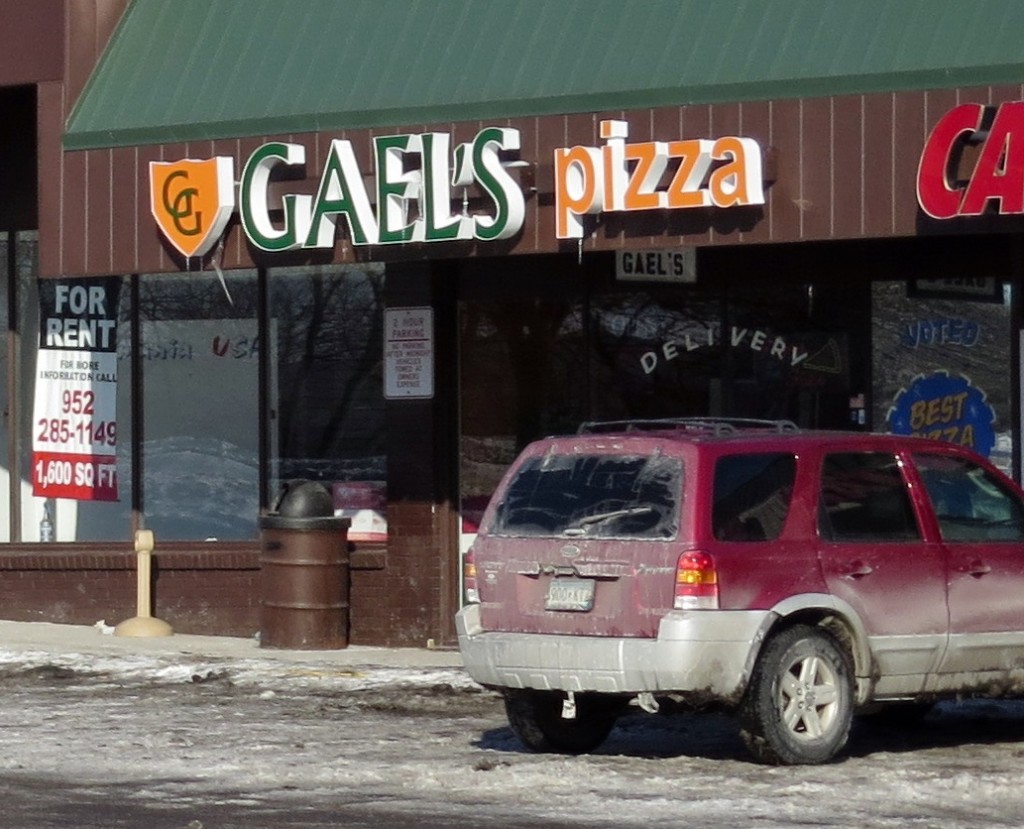 ---
Gifts & Things:  1986 to 1989/90
---
Glad Rags:  1977 to 1981
---
Goju-Kai Karate-Do:  1980/81 to 1983/85
---
H & R Block:  1976 to 1993/94
---
Hair Shortage:  1998  (3006 Texas)
---
Hairaphernalia:  1973 to 1996/97
---
Hallmark Cleaners:  1987 to 1997/98
---
Harmony Fabrics:  1955 to 1967
---
Hauser's IGA:   June 1985 to January 1986
---
Hauser's Texatonka Super Valu:    May 31, 1981 to June 1985.  "We Have it all for You"  "Day and Night"  (Open 24 hours except Sunday night)  (See Penny's)
---
Hick's Pizza:  June 1974 to 1976.  June 6, 1974 ad:  "Under New Owners" Fred and Judy.  (Had been The Pizza Place.)  The menu included pizza, spaghetti, tacos, and super hoagies.
---
His Majesty's Fish and Chips:  1966/67 to September 1972.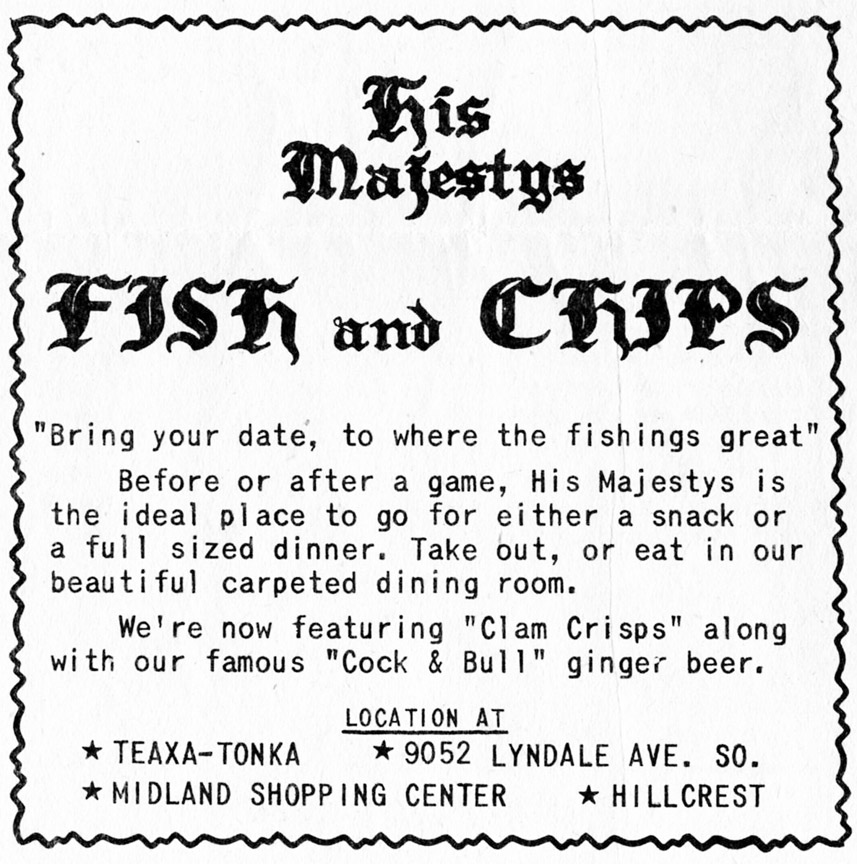 ---
Holly House Interiors:  Grand Opening September 24 – October 1-3, 1959.  Also advertised as Mautz Paint and Wallpaper.  Closed 1960.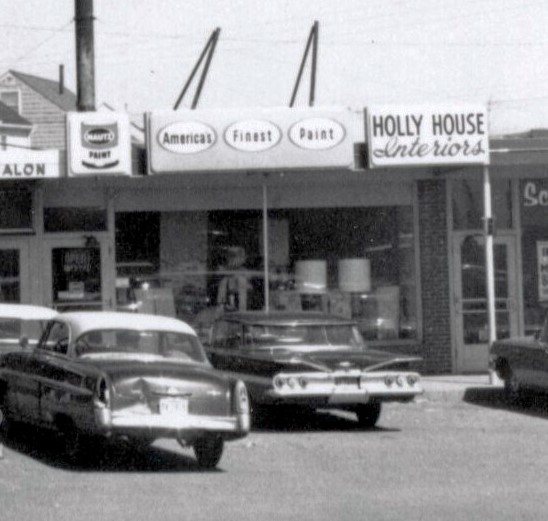 ---
Home Bakery:  1960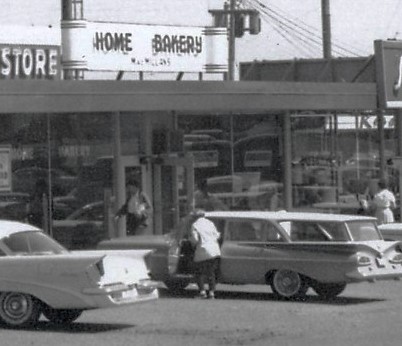 ---
Hosar Bakery:  Grand Opening December 15, 1960.  Closed 1963/64.  Owned by Merriam Hosar.
---
House of Hobbies:  1953 to April 1957.  Owned by Earle A. Caudill.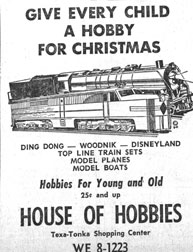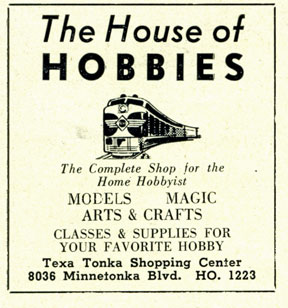 ---
Inches Away:  1982
---
Karmen's Hair Kompany:  3007 Utah Ave. So., 1981.  Formerly Ron's Park West
---
Kitty's Kafe:  1979 to December 1981.  "Down Home Cookin' – Largest Omelettes in Town."  Owned by Kitty and Alvin Johnson, with Kitty using recipes handed down from her French-Canadian family.
---
Kosher Bakery (Sugar Foods):  2001/2001 to 2002/2003
---
Kumarie's Fashion:  2001/2002 to ?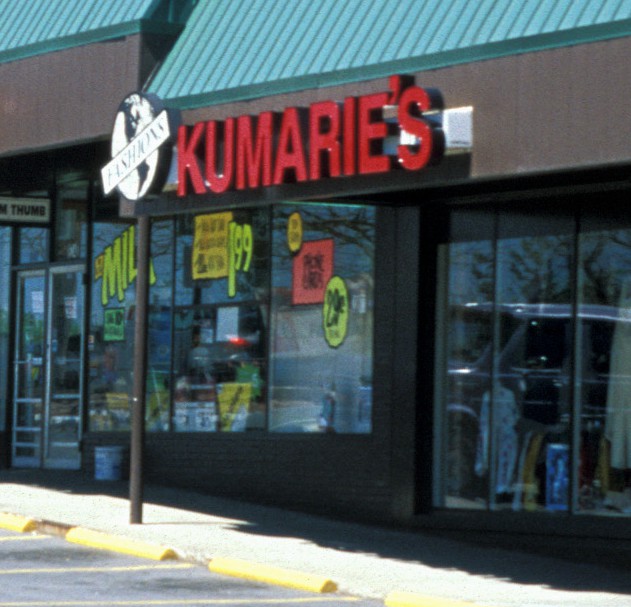 ---
La Belle Alliance:  October 1974 – 1976.  Military miniatures, war gaming.
---
Larry's Sewing Center:  Grand Opening April 28 and 29, 1961.  Closed May 1962.   Featured the Viking Sewing Machine.   Thanks to our Facebook friends, we now know that the owner was Larry Lindquist, who lived on 2700 block of Dakota.  Thanks!!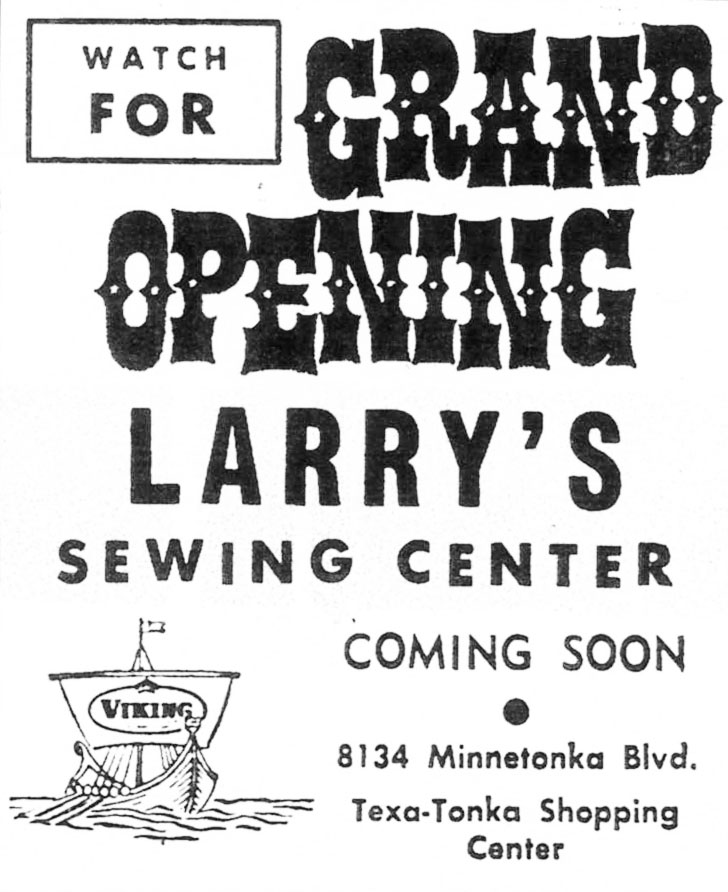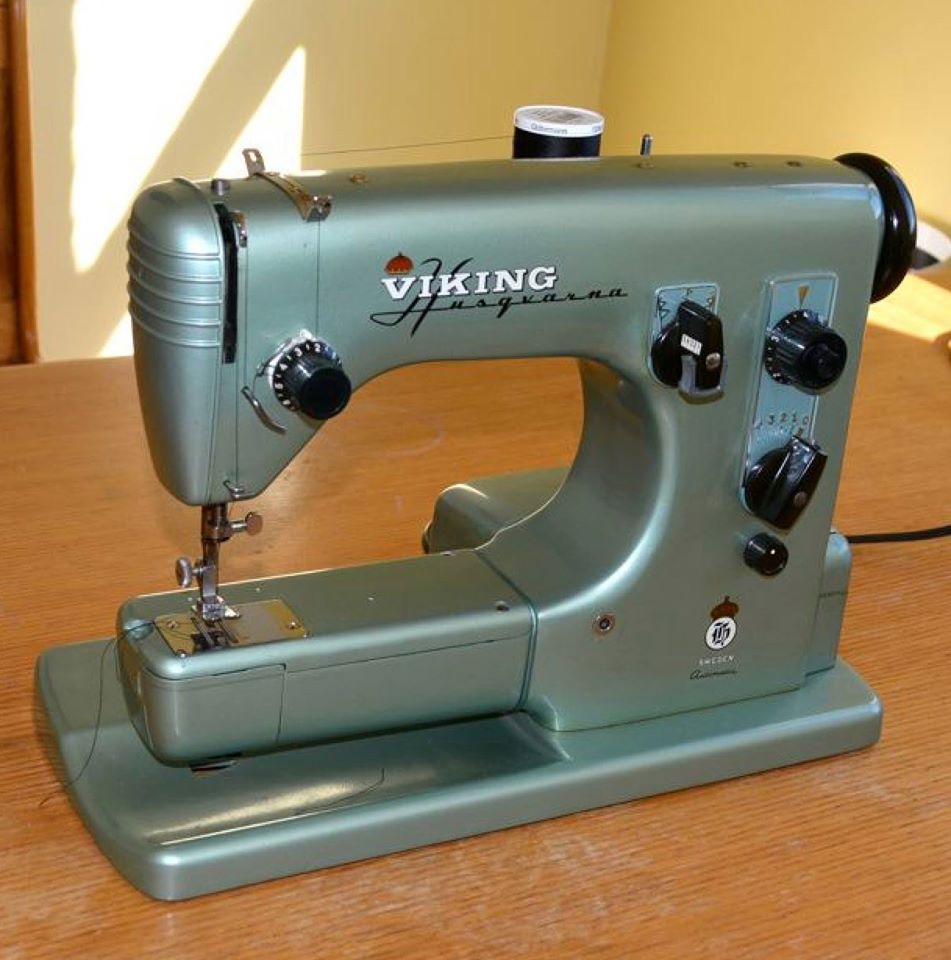 ---
Lil Italy:  December 1976 to 1978
---
Little India:  2003/2004 to 2005/2006
---
Lobby Fabrics: 1970/71 to 1973
---
MACamania:  1996/97 to ?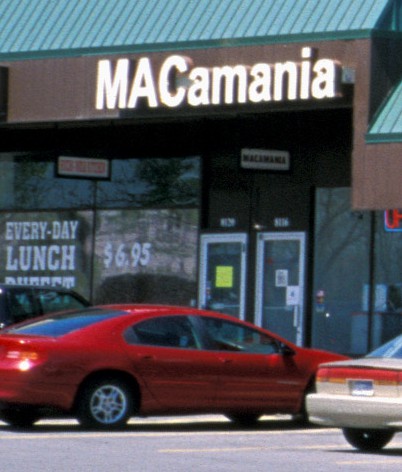 ---
Machine Shop:  A reader writes:  "I remember a little shop that was there in the early 1970s called The Machine Shop, and it was a slot car racing place. They had a pass-through window into the pizza place right next door so people could theoretically order pizza at the Machine Shop. It was a major hangout for us then-junior high kids, and the police and other tenants of the shopping center weren't too thrilled about it as I remember. I think it was only open for a few months and then closed…maybe 1972 or 1973? It was about in the middle of the shopping strip."
---
Mac's Jewelry:  1955 – 1956.  The ad below has Mac's at a different location in November 1955…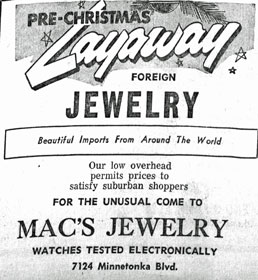 ---
Mac's Men's Wear:  1953 to 1954/55.  Owned by A.W. Micheline, Jr.  "It pays to dress well"
---
MacMillan Home Bakery:  May 1958 to January 1961.  Owned by John MacMillan.
---
Marie B's Filling Station:  1984 to 1998.   Burned down?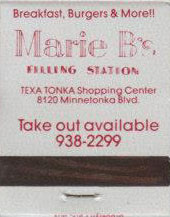 ---
Mautz Paint and Wallpaper:  see Holly House Interiors.
---
Metropolitan Credit Co. 1963 to 1971/72.  A 1966 ad featured a cartoon man named Redi Kash.
---
Midwest Shoe Rebuilders.  September 1953 to 1956.  John Kinsell
---
Milo Discount Beauty Supply 1975/76 to 1980/81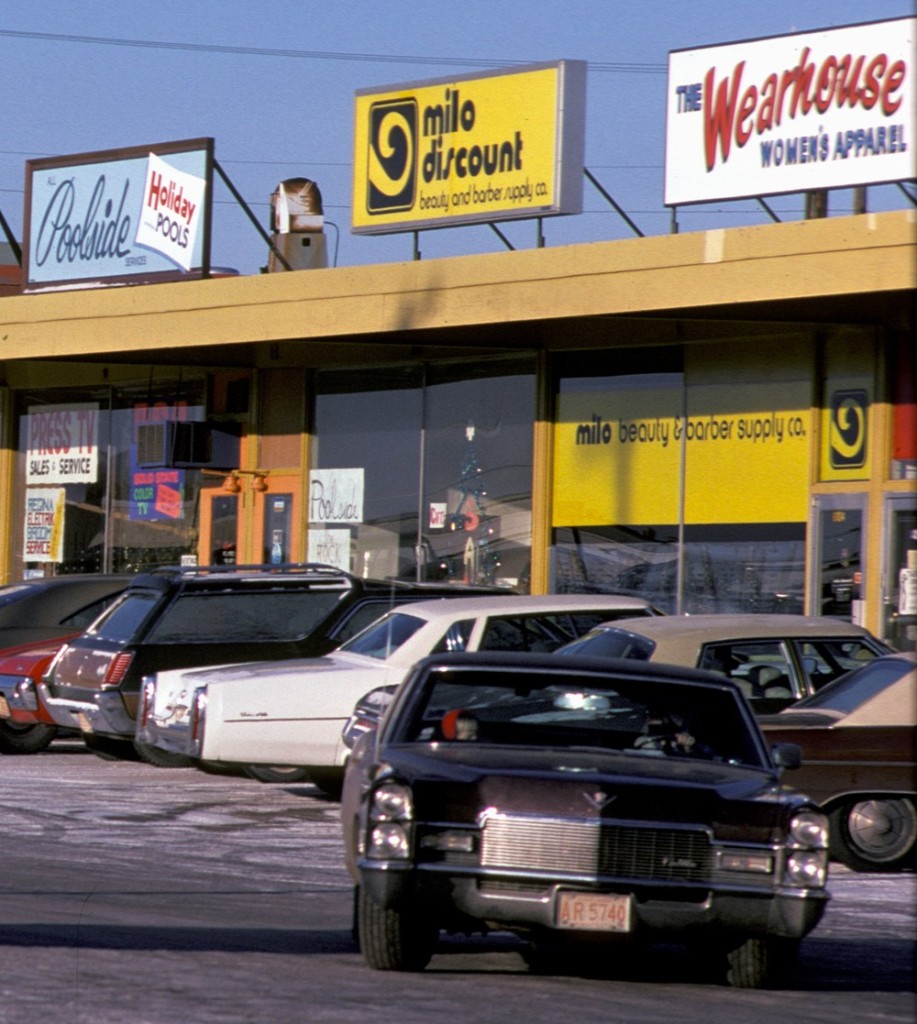 ---
Mini Pot:  March 1978 to 1979.  Eclectic menu included eggs, pastrami, bagels, cream cheese, deli sandwiches, lasagna, spaghetti, antipasto, garlic toast, pizza, and all-you-can-eat crab legs for $5.95.
---
Mr. Movies:  1986/87 to 2003/04.  Owned by Pamela J. Westlund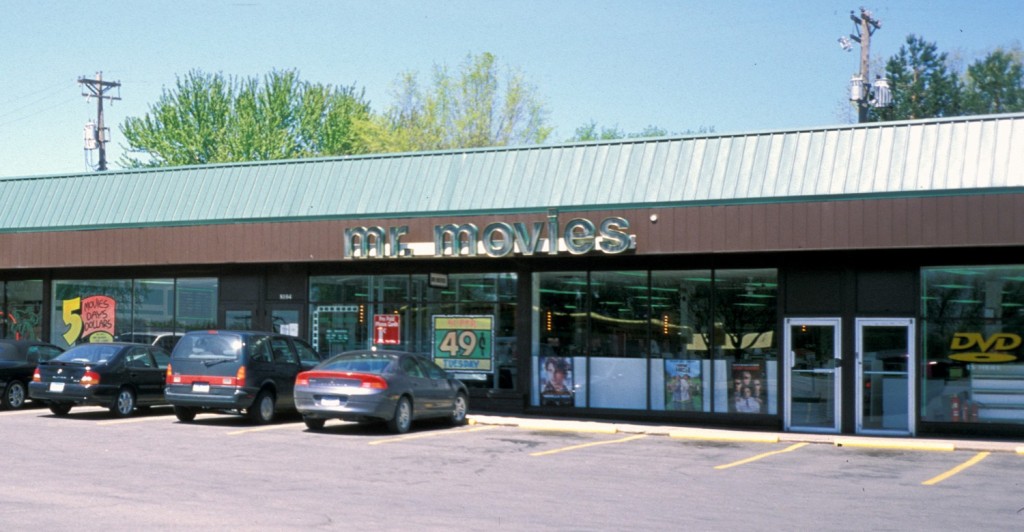 ---
Music Plus:  1983 to 1991/92.  Owned by Leo Fine – successor to Park Music Center.
---
Namaste Plaza Indian Food Mart/Videos:  2001/2002 – present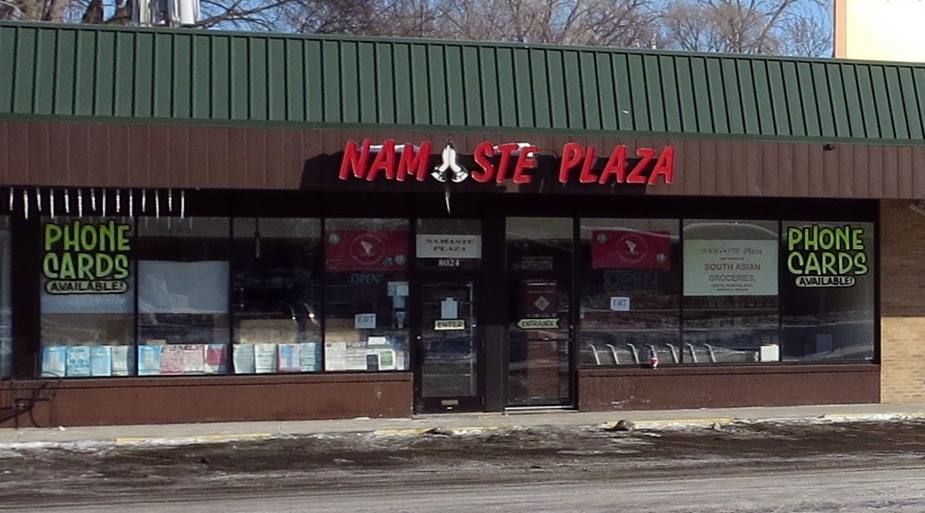 ---
New York Bagel Bakery:  1972-1975 Owned by Lenny Taylor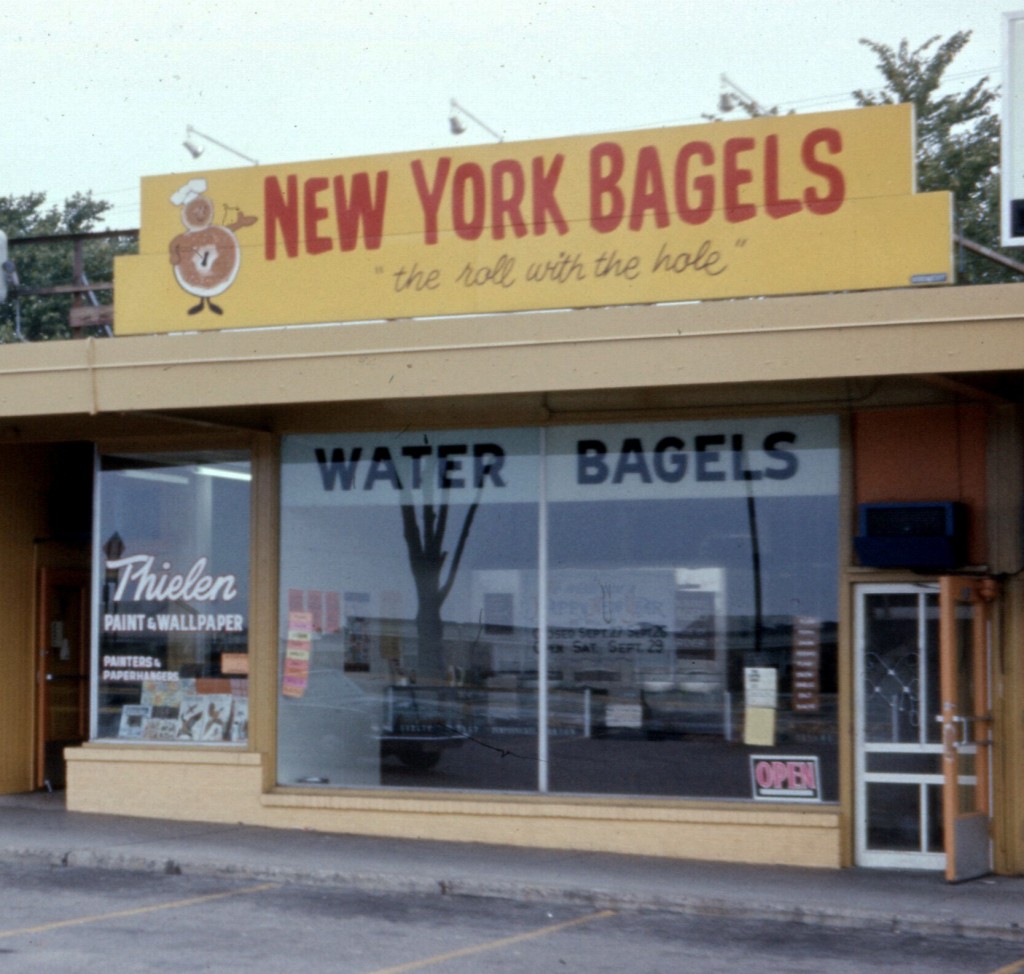 ---
99 Cents Store:  1995/96 to 1996-97
---
Northside Bakeries and Deli.  "Now Open" February 19, 1953.
---
Ole Piper Inn:  1976.  Lost license due to drinking in a restaurant without a liquor license. Two employees were arrested "in that debacle."  Was Lil Italy by December 1976.
---
Panda Chinese Buffet:  2001/2002 to 2009/10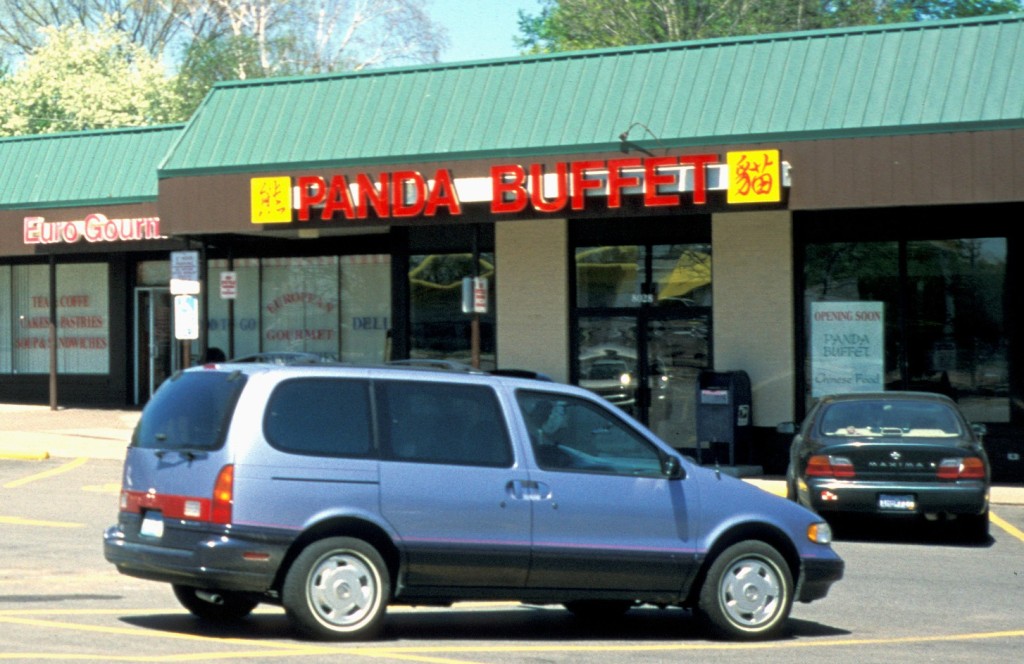 ---
Park Dance Studio:  1955
---
Park Pet and Feed:  1993/94 to 1996/97
---
Park Super Valu:  ? – July 1993
---
PayLess Shoe Store:  Grand Opening November 1968.  Their first location was at 7815 Portland.  Shoes were advertised at as little as $1.88 a pair.  This store closed 1973.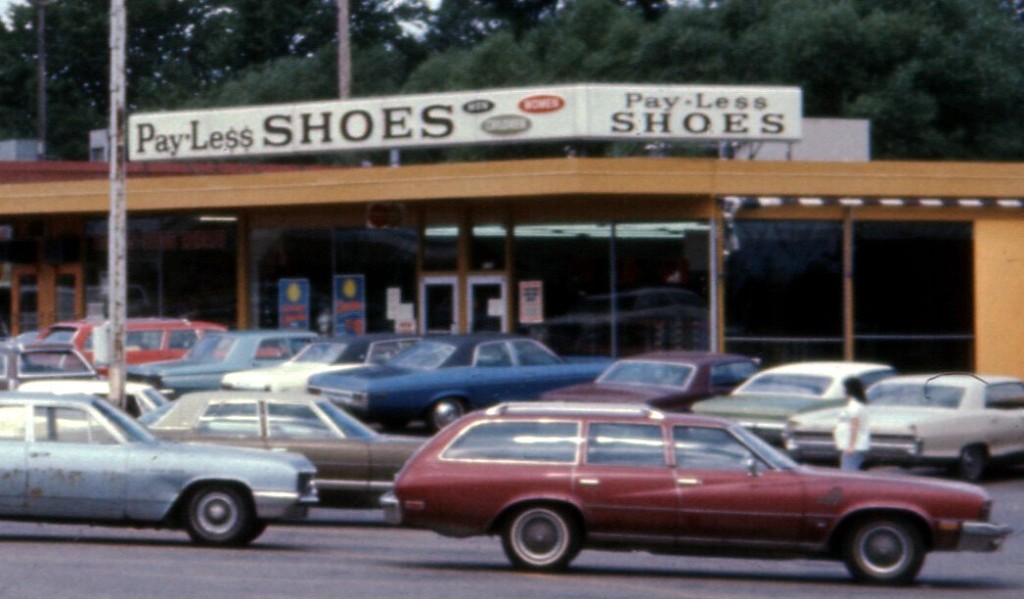 ---
Penny's Super Market:    November 29, 1951 to May 23, 1981.  One of the two original stores at Texa-Tonka, along with Mike Zoss Drug.  Owned by George and Marion Levine.  In 1965 there was another store at 2749 Winnetka Ave. in the Midland Shopping Center in New Hope.  By 1981 there were 24 stores in the Twin Cities.  In May 1981 the stores were sold to Brooks Hauser, an independent retailer who owned three Super Valu stores and 22 Brooks Superettes in the Twin Cities area.  Hauser kept six of the stores (including the St. Louis Park store) and resold ten to other operators.  Three were closed:  Minneapolis, Crystal, and St. Anthony.  Marion Levine said that the chain had been for sale for several years.  On May 31, 1981, the St. Louis Park store reopened as a Super Valu Store.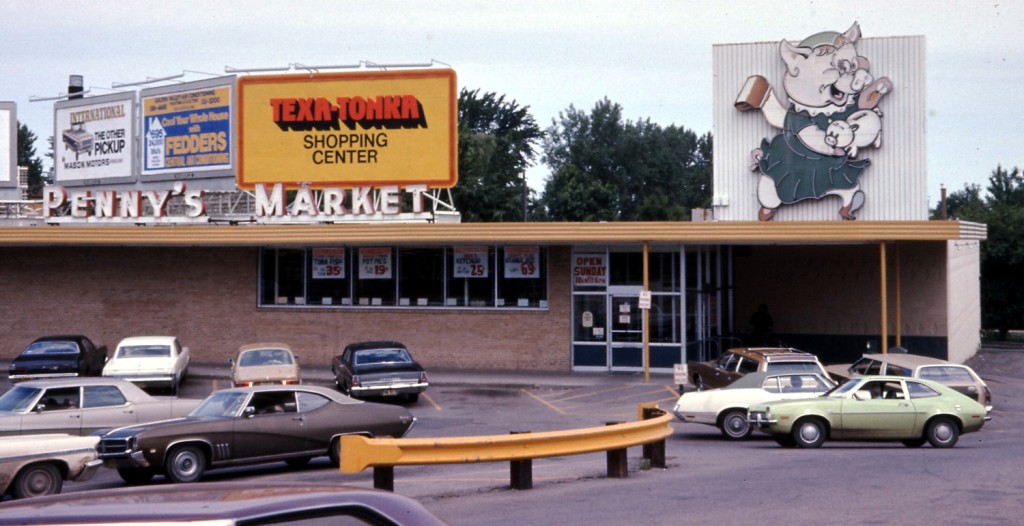 ---
Pick Pocket:  1984/85 to 1993/94
---
Pisces Aquarium Pet Shop [Pisces Aquarius Inc.]:  October 14, 1972 to  1974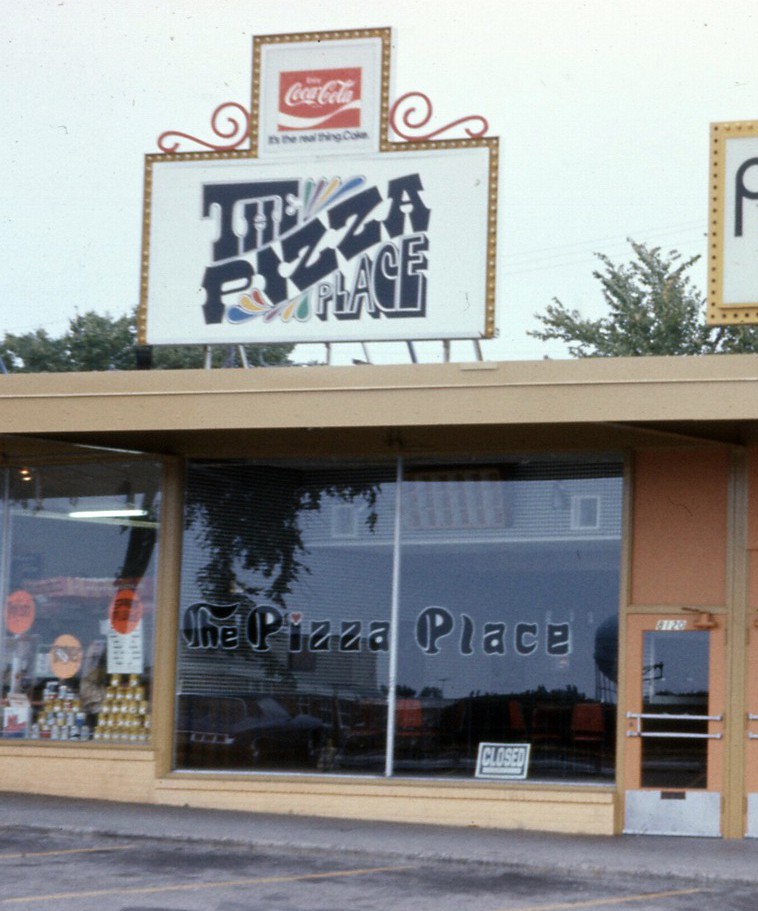 ---
Pizza Papa:  Open under new management, September 1970. (Had been Big B's)  New Manager Bill Carpenter. Closed September 1972.
---
Pizza Place: The Grand Opening was on October 14 to 21, 1972.  The ad in the Echo promised 10″ and 14″ pizzas, and Grinders on toasted Italian rolls.  You got a Free Coke! with the purchase of a pizza or a grinder, and you could register for a free stuffed animal.  It lasted until May 1974.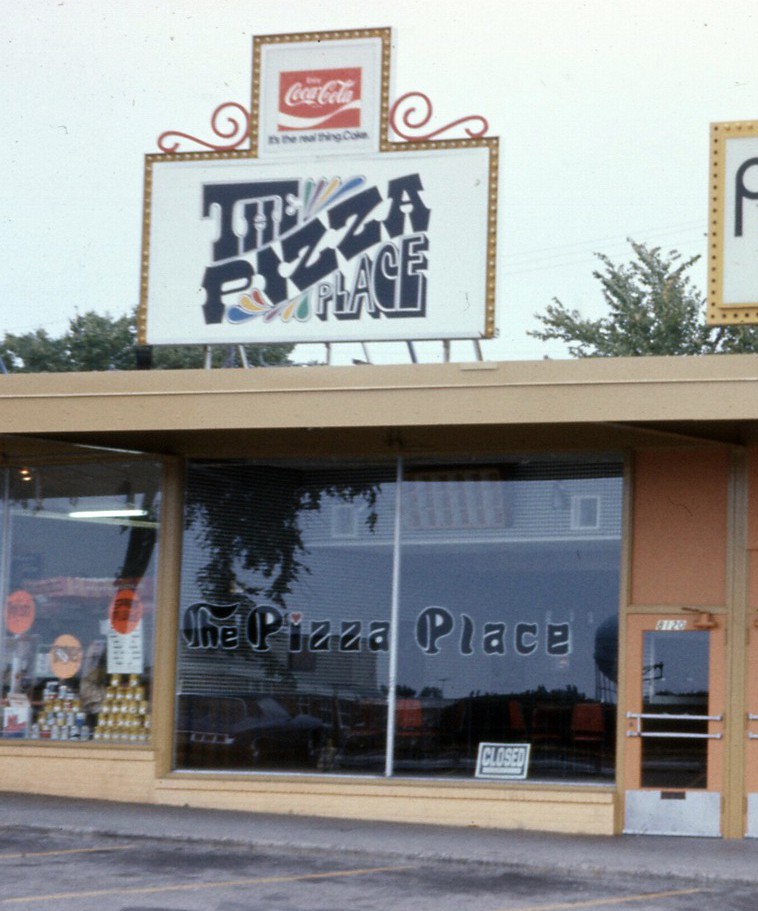 ---
Polka Dot Dairy:  1973.  Became Tom Thumb convenience store under same ownership.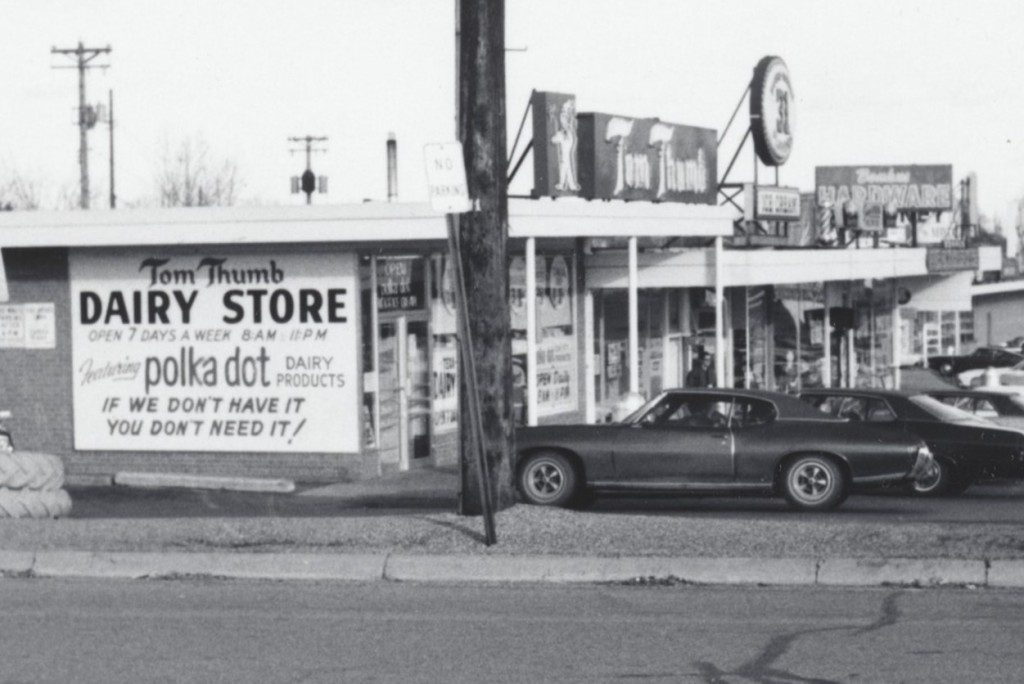 ---
Poolside Holiday Pools: 1976 to 1981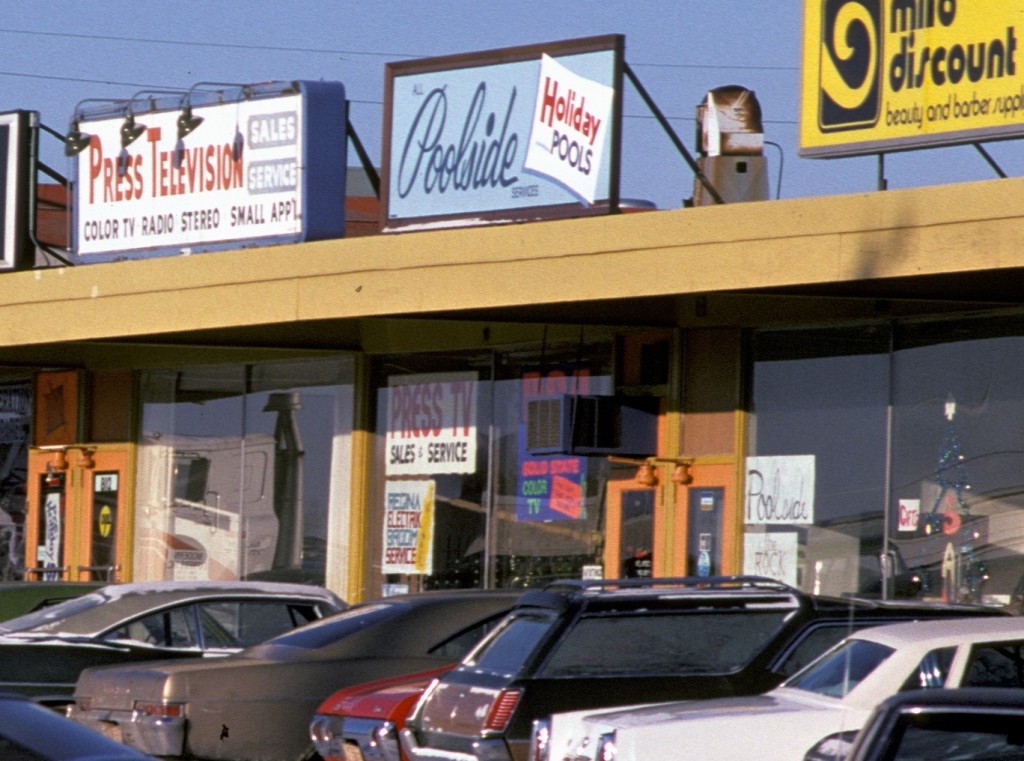 ---
Press TV Sales and Appliance Service: 1962 to 1979.
Ben Press had his own store, 1962 to 1963.
July 1964:  new location in the Anderson Furniture Co.
Back in own store 1966/67 to 1979.
Added mopeds 1975/76.  See picture above.
---
Rainmaker Soft Water: 1952 to 1960/61.  Owned by Eugene Simmer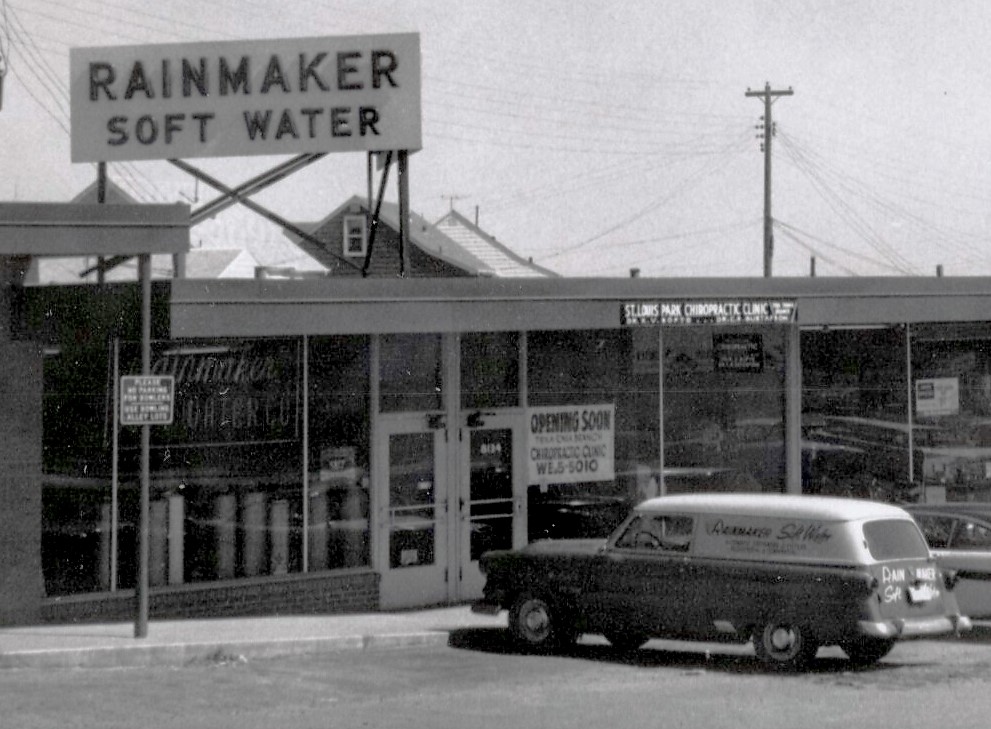 ---
Record Lane:  1958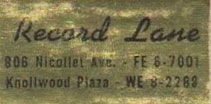 ---
Jack Reed Studio:  1975/76 to 1976/77
---
Resale Shop:  1959/60 to 1961
---
Resat's Beauty Salon:  April 1957 to 1961.  Owned by Resat Komec.  June 1960:  Just say "charge it please!"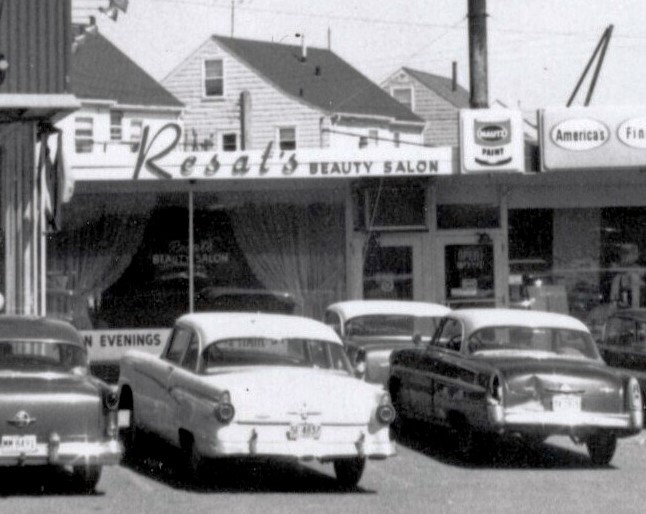 ---
Road Buddy's BBQ:   Now open June 1966.  Closed 1968.  Owned by Henry Sabes.  Ribs, chicken, steaks, and shrimp to go.  There was a Road Buddies at 2925 Hennepin Ave., advertising BBQ ribs in the Echo in February 1953.  Road Buddies was started by Chet Oden, who also owned the Ebony Lounge and the Key Club night clubs. Oden drowned while duck hunting in October 1966.
---
Ron's Park West (Salon), 3007 Utah Ave. So.   – 1981.  Became Karmen's Hair Kompany.
---
Rose Fashion Optical:  1984/85  to 1994
---
Ruchi India Kitchen:  1999/2000 to 2001/2002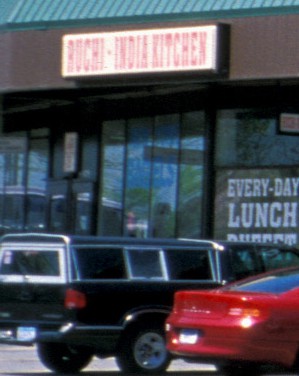 ---
Russian Gallery:   1998/99 – 2008/2009.  This restaurant served the Russian emigrant population that settled in the Aquila area in the 1990s.
---
St. Louis Park Chiropractic Clinic, Dr. K.V. Bofto.  April 1960 to 1961.  In June 1960 the other location was at 4514 Excelsior Blvd., with Dr. C.R. Gustafson.
---
St. Louis Park Police Substation:  1997/98 to present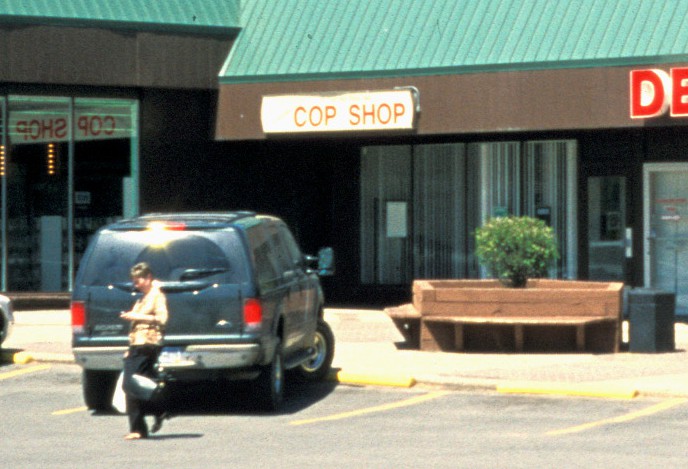 ---
Sample Hut:  Grand Opening, August 1, 1964.  Moved here from 3010 Hennepin.  Closed July 1972.  Located at 3004 Hennepin in 1974.
---
Schneider & Sewall Insurance Agency:  1955/56 – 1958/59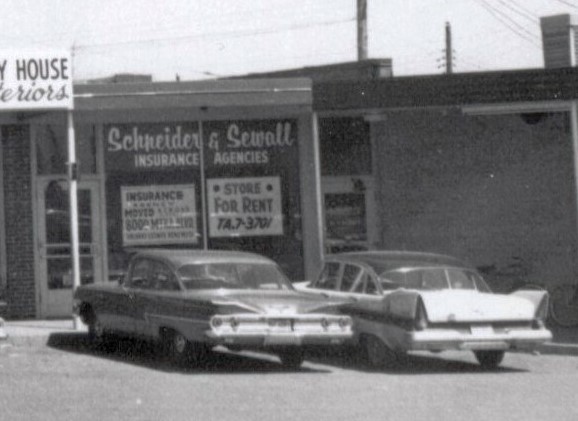 ---
Schoell and Madson Engineers and Surveyors:  1954/55 to 1958
---
Shangri-La:  2001/2002 to 2003/2004
---
Sherm's TV Service:  1979 – 1986/87
---
Show and Tell Video:  1984/85 to 1986
---
Snyder Brothers Drug:  1983/85 to 1993/94.  The September 29, 1991, ad insert in the local paper indicated that there were 19 other Snyder Brothers stores in the Twin Cities, Stillwater, and Duluth.  By March 7, 1993, the chain was down to 17 other stores.
---
Snyder Drug:  1993/94 to 1997/98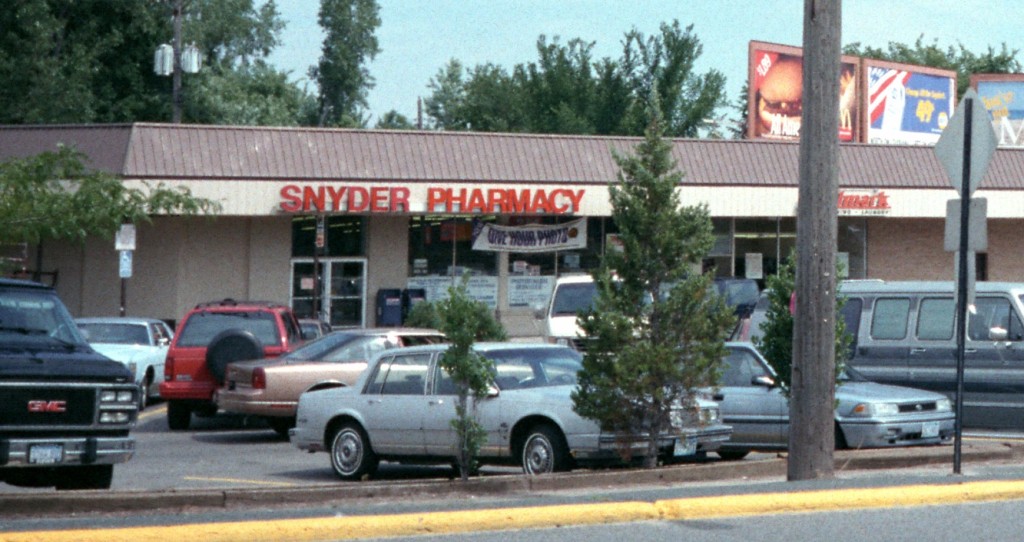 ---
Stephanie's Statuary:  1974 to 1974/75.  Statues, lamps, wall plaques, paints and accessories.  Free classes and instructions.
---
Stone's Foods:  February 1986 to 1987/88.  Owned by Alan Stone
---
Suburban Dry Cleaning:  1952-1987.    This was one of the original stores in the shopping center and was owned by Don Johnson.  "Skill and care beyond compare" was their slogan.  It probably opened at the beginning of January 1952.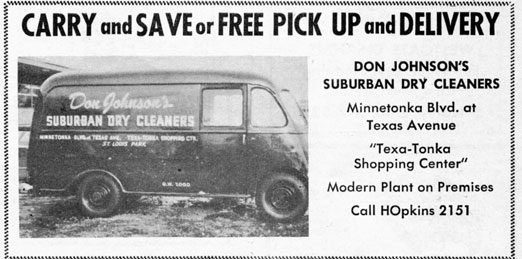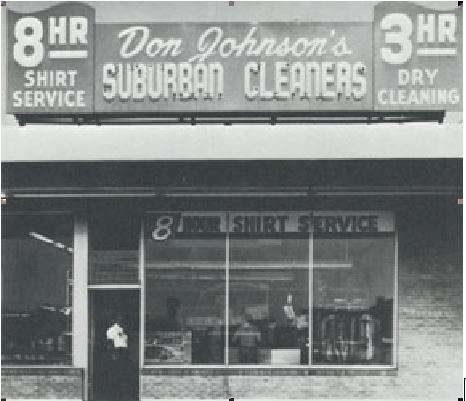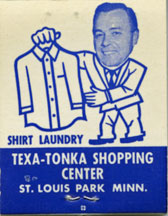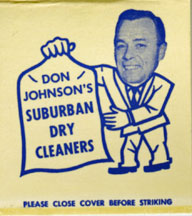 ---
Suburban Maytag Home Appliance Center:  Opened in June 1968, closed 1975
---
Swenson Furniture Co.: 1953 to 1961/62  This large store was part of the third stage of construction of the center.  The first ads appear in the Dispatch in April 1953.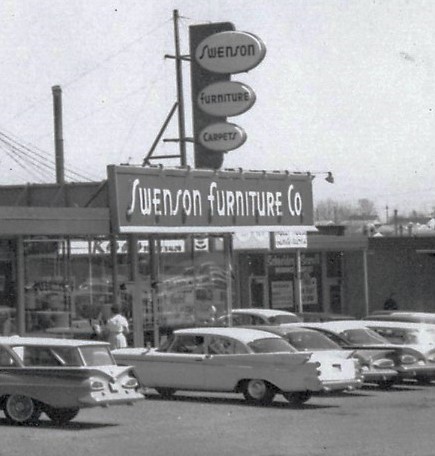 ---
Ten Thousand Auto Parts:  1981/82 to 1985/86
---
Texa-Tonka Barber:  1956.  2935 Texas Ave.
---
Texa-Tonka Barber Shop:  1968/69 to 1987/88
---
Texa-Tonka Beauty Salon:  1961 to 1973.  Owned by Harold Teruko Larson
---
Texa-Tonka Dairy Store:  November 1959 to 1967/68.  Owned by Polka Dot Dairy and Wally Pettit.   "We're Never too Busy to Serve You!"  See Polka Dot Dairy and Tom Thumb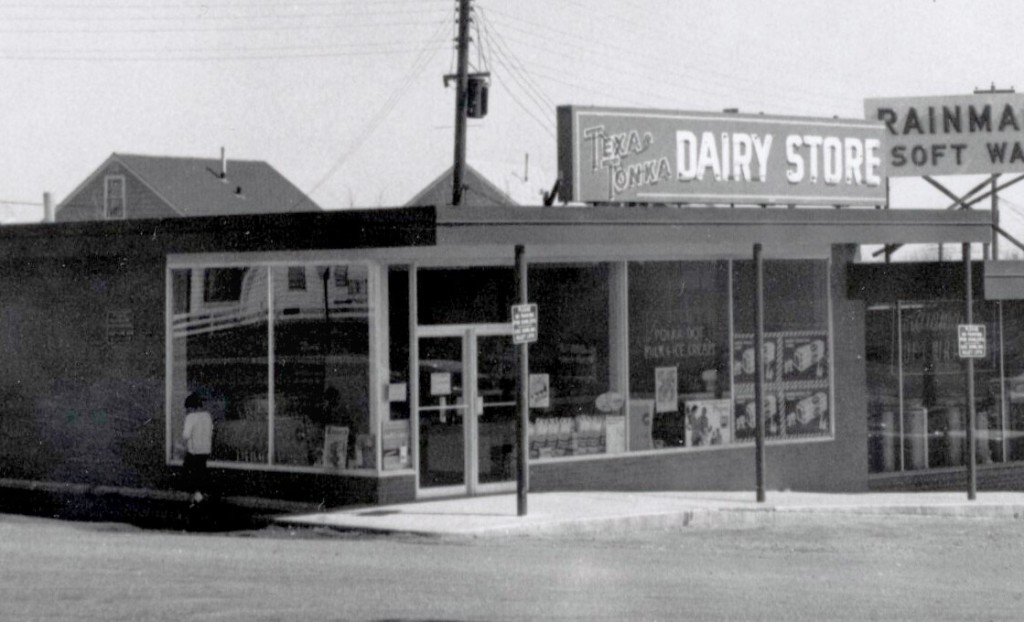 ---
Texa-Tonka Jewelers:  1961 – 1968
---
Texa-Tonka Red Owl:  1987/88 to 1989/90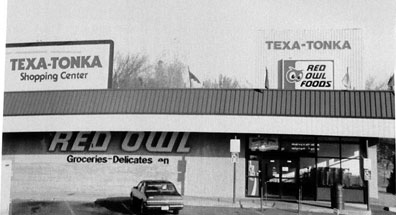 ---
Texa-Tonka Shoe Repair:  June 1962 to 1968/69
---
Texa-Tonka Shoe Service:  1956 to 1962.  Owned by John Kinsell
---
Texa-Tonka Super Valu:  May 31, 1981 – 1983 (See Penny's).  Owned by Brooks Hauser.
---
Texa-Tonka TV and Appliance:  May 1954 to  1961/62.  "If it plugs in, we can fix it"  Owned by Hyman Weingarden
---
Texa-Tonka Variety Store:  Grand Opening August 27-29, 1953.  Closed August 29, 1953.  Owned by Mike Zoss and managed by Mrs. Lillian Egge.
---
Texa-Tonka Wash 'n Dry, 3004 Texas Ave.  1960 ad below: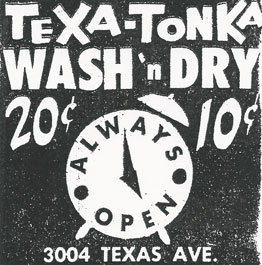 ---
Thanh Do Restaurant:  2010 – present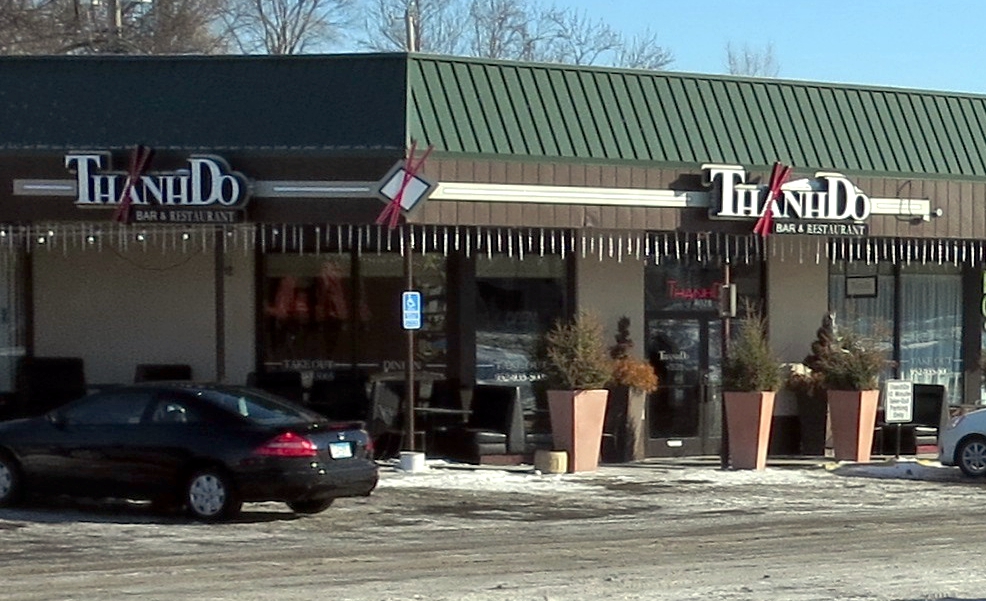 ---
Thielen Paint & Wallpaper: 1973 – 12/1981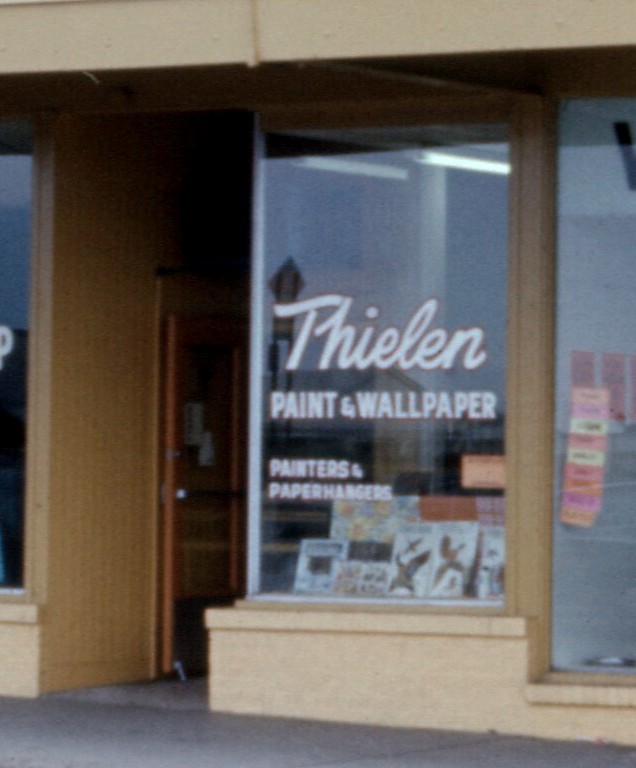 ---
Thrifty Auto Store:  1973 to 1974/75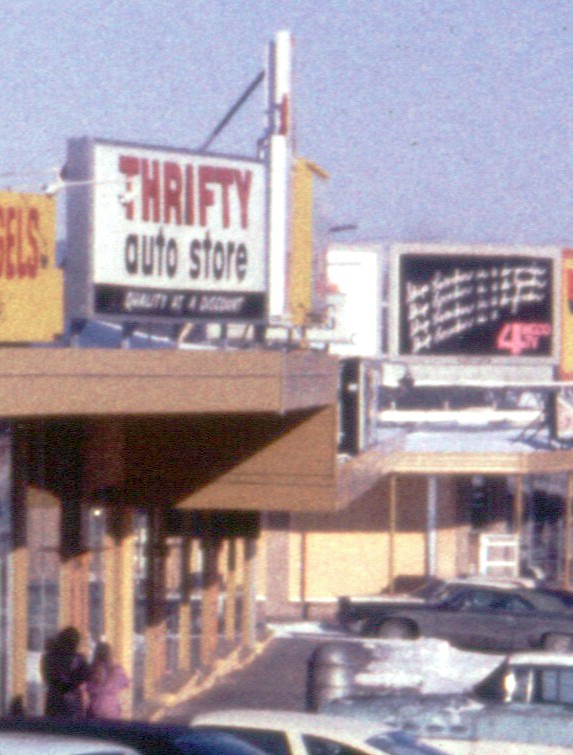 ---
Tinker Tailor Plus Inc.:  1975 to 1979/80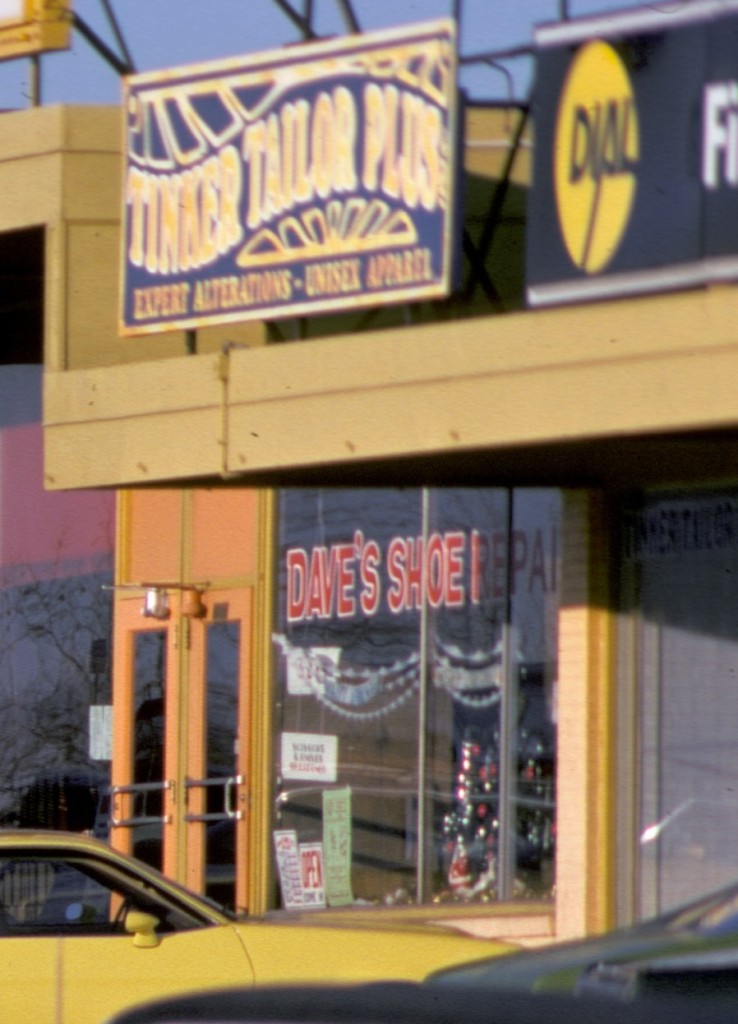 ---
Tom Thumb convenience store:  1967/68 to 2006/07.  Formerly Polka Dot Dairy Store, same owner.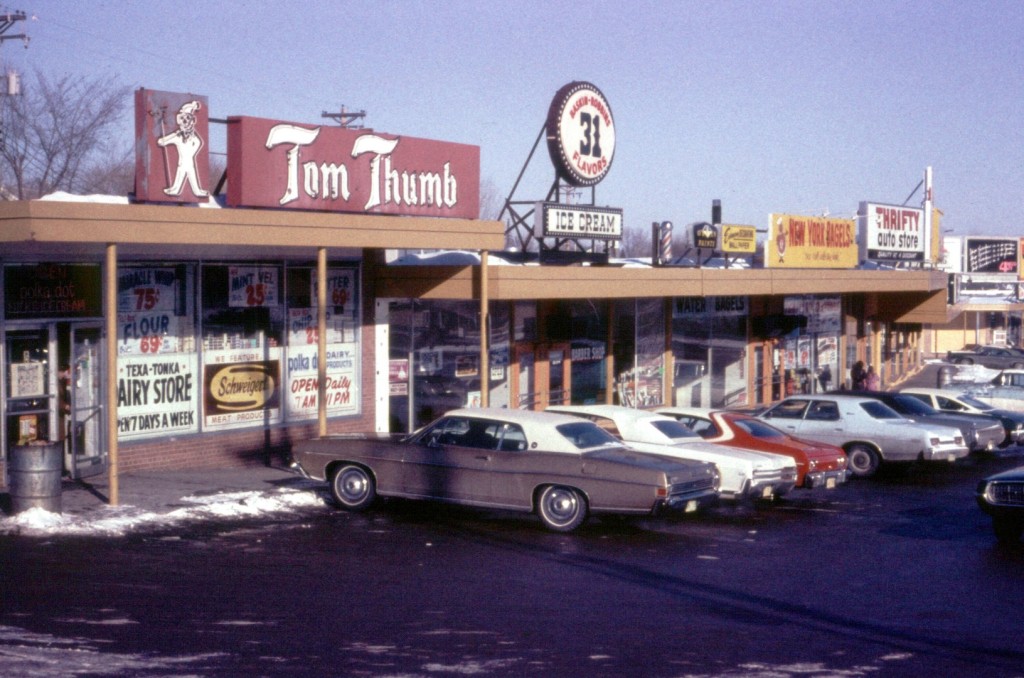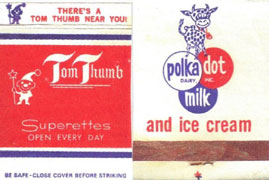 ---
Tom's Stereo Sales:  12/1981
---
Tonka beauty salon: 1973
---
Tonka Diner:  September 1957.  Owned by Don Smith.
---
Tonka Liquor Store:  Grand Opening April 24-25, 1953.  This store, owned by Harold and Harriet Kaplan, moved to its own building west of the shopping center 8242 Minnetonka in 1962.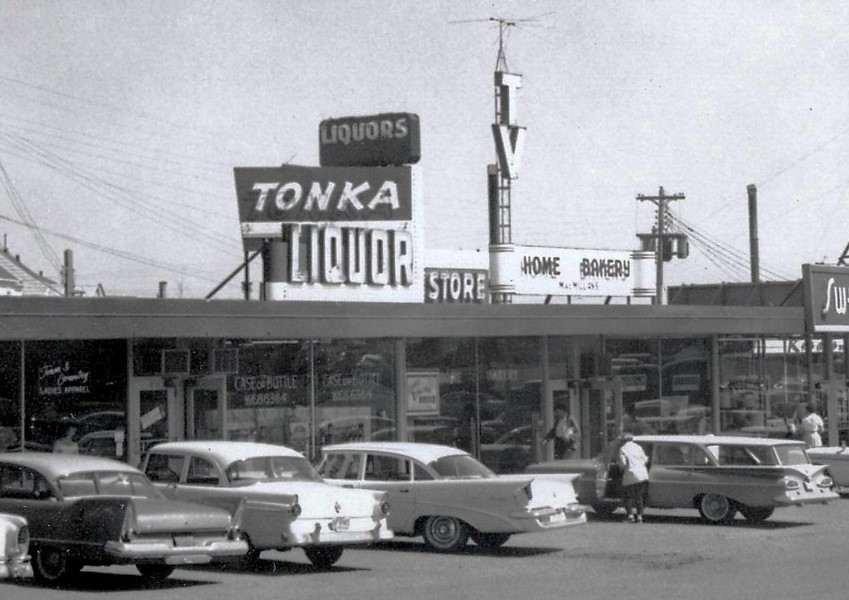 ---
Tonka Medical Supply:  1998/99 to present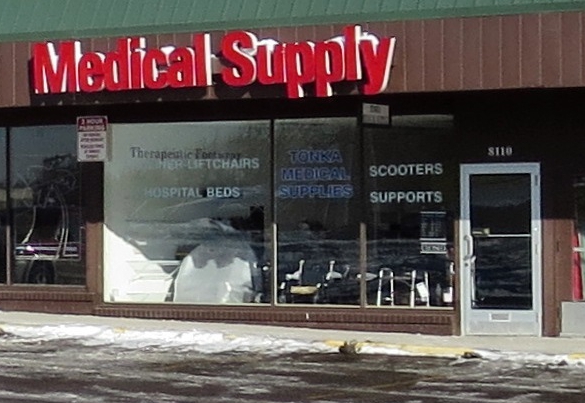 ---
Town and Country Dress Shop/Apparel:  December 1957 to  December 1964.  Owned by Fern M. Meyers.
---
Town Drug:  1967-83/85.  From 1976-81 it was owned by Harold Steinberg.
---
Ulli and I:  1979/80 to 1989/90.  One of the owners was named Ursula.  In 1980 the sign read "Sportswear, Unisex Jeans, Alterations"
---
Uptown Modes:  1954/55 to  1957.  Other stores were Campus Modes at 1314 SE 4th St. and 736 East Lake Street
---
Wearhouse Women's Apparel:  1974 to 1977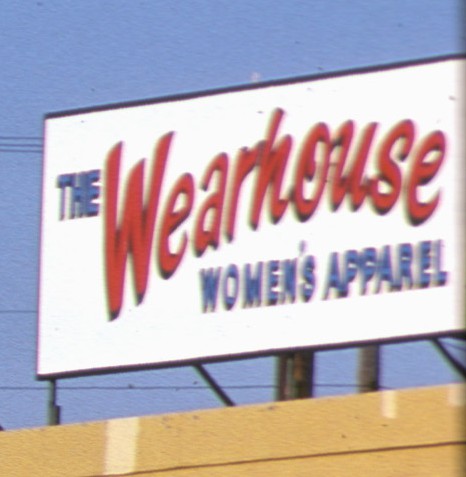 ---
Weight Loss Closet:  1982 to 1983/84
---
Worlds Coffee & Tea:  1996/97 to 2000/2001
---
Yes Mart Convenience Store:  2006/07 to present.    This store burned in March or April 2011 and was rebuilt and reopened in December 2011.
---
Mike Zoss Drugs:  November 29, 1951  to  1967.  This was one of the two original stores in the shopping center along with Penny Super Market.  Myron "Mike" Zoss was born on August 24, 1913 in Youngstown, Ohio.  His parents were from Russia.  After four years of college he enlisted in the Army in 1942.  After working at a drug store in St. Paul, he opened Park Drug at 3400 Dakota on June 1, 1949.  The Texa-Tonka store featured a 23-stool ice cream fountain.  An article published before the store opened said that it would be Park's largest drug store and the "first in the Minneapolis area to feature a customer walk-in cooler for soft drinks and beer.  The new pharmacy would be 75 percent self-service, with shelves open to the customers who can pick their items without waiting for a clerk.  Zoss will apply the popular self-service principle of modern groceries to the drug store…  Each department will be identified by a separate, distinguishing color scheme."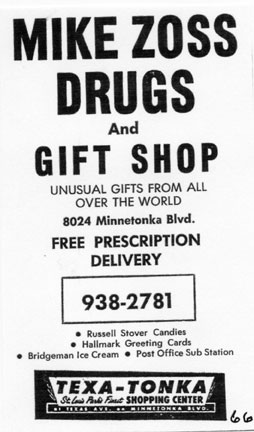 In 2009 the StarTribune reported:  "Back in the 1960s, filmmakers Joel and Ethan Coen would get dropped off by their mother at Mike Zoss' drugstore when she went grocery shopping. Mike Zoss kept an eye on them, not once hollering at them as they played in the store.  About 10 years ago, Barry Zoss [Mike's son] got a call from Frances McDormand, Joel Coen's wife, asking if it would be OK if the Coens renamed their production company as Mike Zoss Productions in honor of his father. And their award-winning film, 'No Country for Old Men,' featured a pharmacy called 'Mike Zoss Drugs.'"  Mike died on April 7, 1998 in St. Louis Park.
---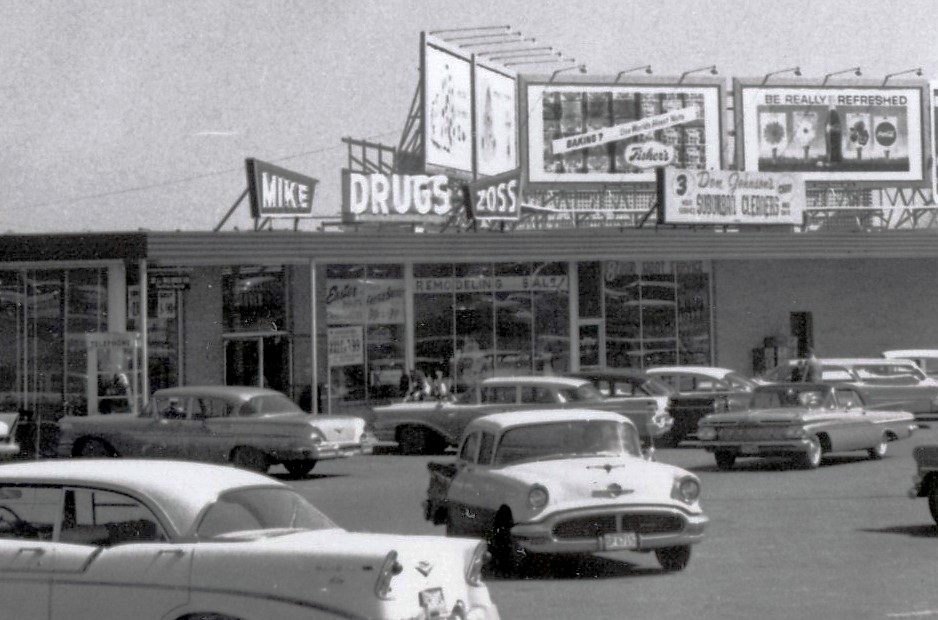 1960
---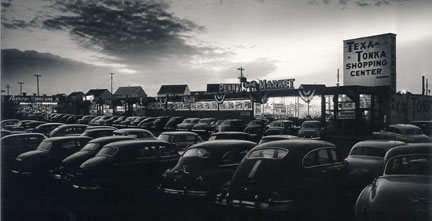 ---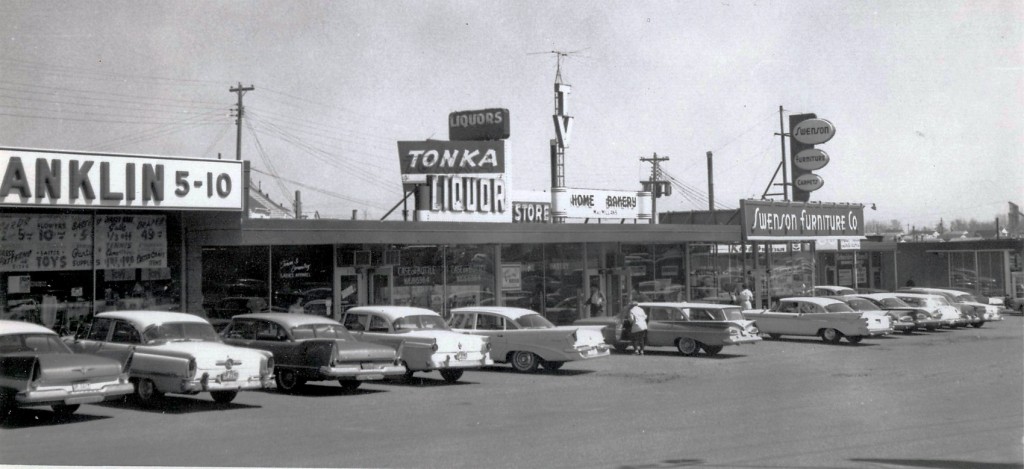 1960
---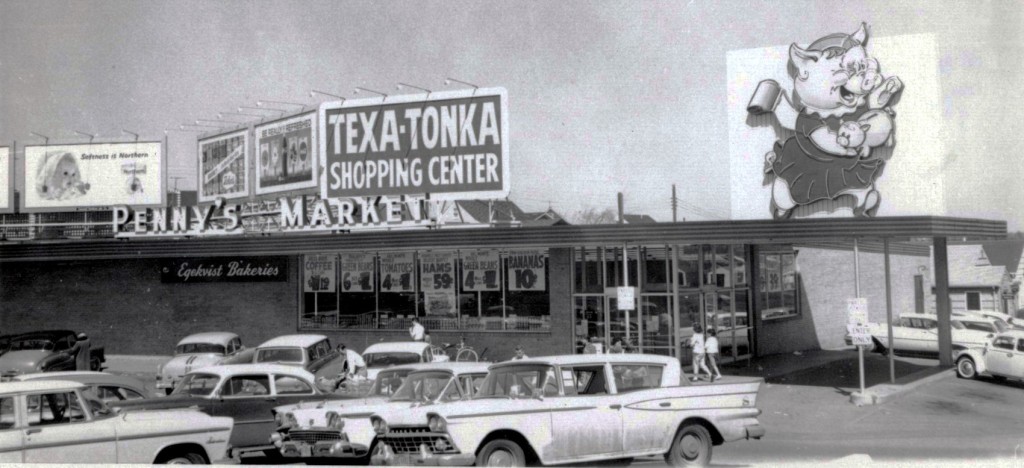 1960
---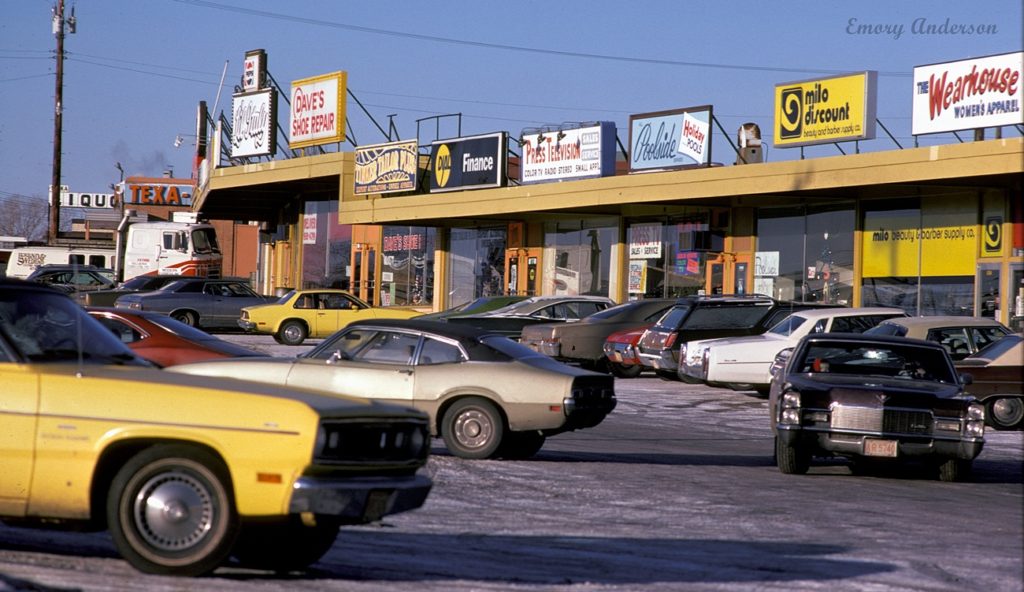 1976 photo by Emory Anderson
---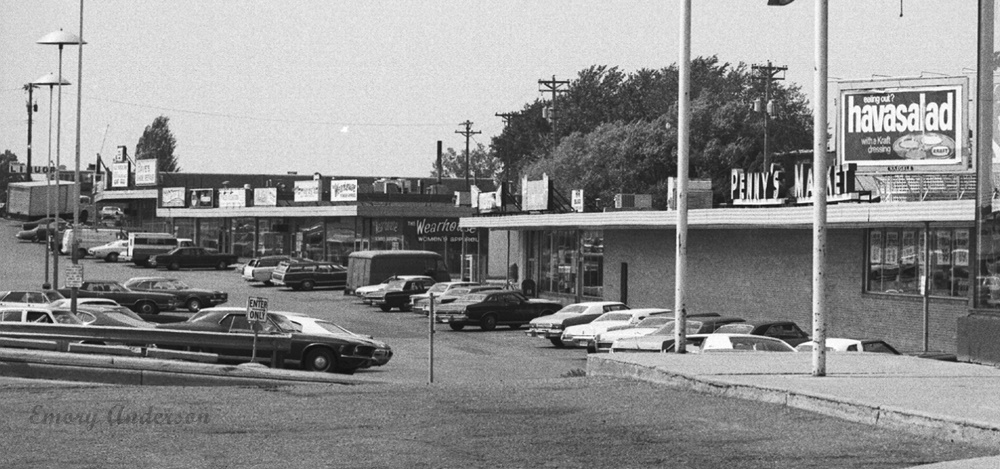 1976 Photo by Emory Anderson
---

1994 Photo by Emory Anderson
---

2002 Photo by Emory Anderson
---

2002 Photo by Emory Anderson
---

2002 Photo by Emory Anderson
Save
Save
Save
Save
Save
Save
Save
Save
Save
Save